Date of trip: July 12, 2018
Length: 22 miles
Altitude drop over this section: 55 feet
The previous month (June) I paddled from Sayre PA to Towanda PA and I ended my trip on the right bank by the Towanda River walk. A very nice area, but a bit crowded and not many parking spaces. As a matter of fact, the parking spaces along the river walk are reserved for people who work in the area. I searched for a better place to start out this trip and discovered that on the opposite side of the River Walk there is an area called the Riverfront park with lots of parking and a gently sloping boat ramp. A much better place from which to begin this leg..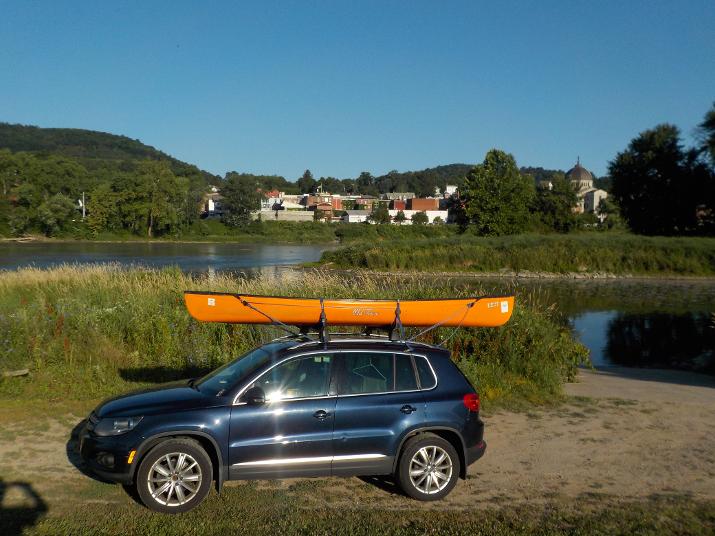 I started the trip at 8:00 am from the Riverfront park. The boat ramp is on the right side of the photo. Downtown Towanda and the Riverwalk area are on the opposite side of the river. You can see the buildings in the foreground. The boat ramp is in a small cove (no current) and a few strokes of the paddle brought me into the river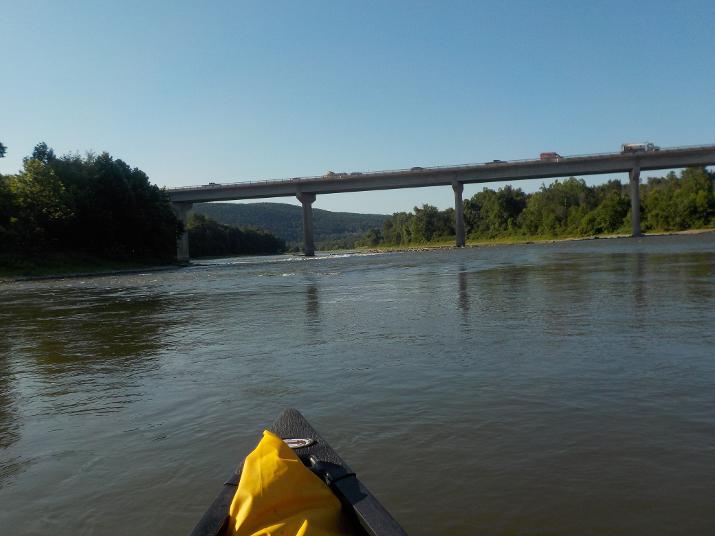 The Route 6 bridge is just a few hundred feet from the boat ramp and I could see rapids just under the bridge. the current was relatively fast in this area and I had to quickly put down my camera and start paddling to keep the boat straight. I would have liked to take some photos because these were the worst rapids I experienced on the river so far. I think the right side of the river is not as bad, but I did not get a good look as I was focused on getting thru the rapids. This was also the first time my Next canoe/kayak was tested on this type of rapids and I wasn't sure how it was going to handle it. I sit up higher on the Next. That is very good as it keeps me dry (not sitting in water like my other kayak), but it makes for a higher center of gravity and I worried that I would tip over. But, actually it handled the rapids very well.
Some water did come into the boat and I used a large sponge to sop it up and squeeze it out of the boat. As I did this the boat drifted down on the current and when I refocused on the river I noticed that I was getting close to anatural dam of rocks on the left side. I could see that it only stretched halfway across the river and I tried to paddle to the right side. But, the current was too strong and I was in danger of going over the dam sideways! (That's the worst way) So, I quickly straightened out and paddled thru it. I think it was about 1.5 to about 2 feet high, and I really thought I was going to tip over, but I made it safely.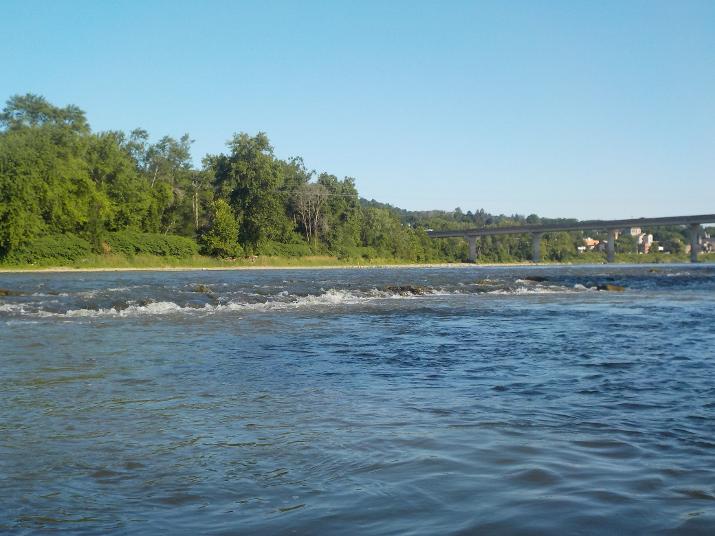 The photo above is of the natural dam that I had just gone over. the photo is looking upstream. The Route 6 bridge is in the foreground. on this section (from the Riverfront Park to about half mile down) it's best to stay to the far right of the river, if you want to avoid trouble.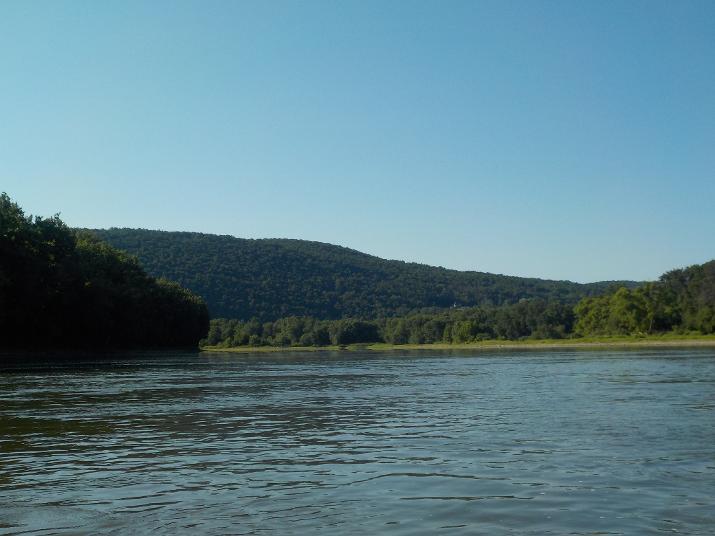 Immediately after the scary natural dam the river calms down. Here you can see that the current is still relatively strong. But, soon it becomes slow and lake like.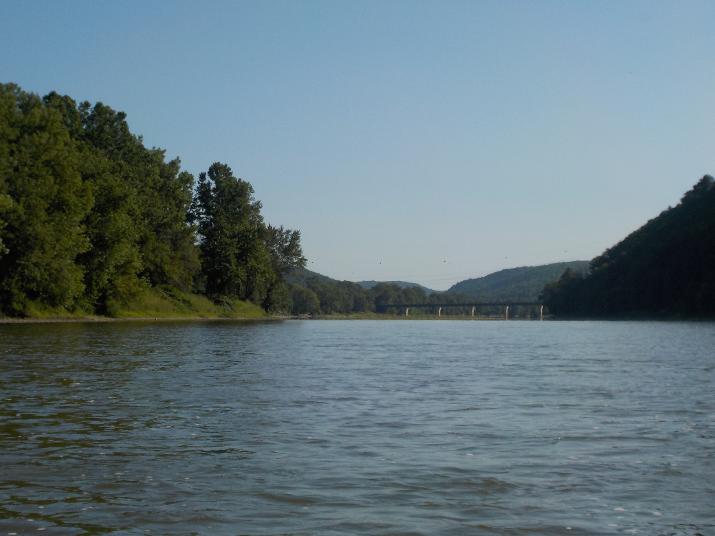 45 minutes after leaving the Riverfront Park in Towanda, the Route 187 bridge in Wysox comes into view. I pass under it 15 minutes later at 9:00 am.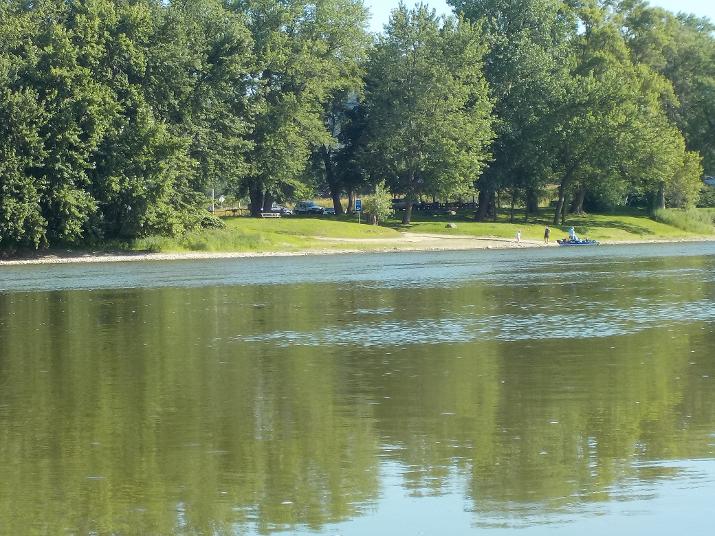 Just before the Route 187 bridge in Wysox is a river access area and boat ramp. This spot is about 4 miles from the Riverfront Park in Towanda.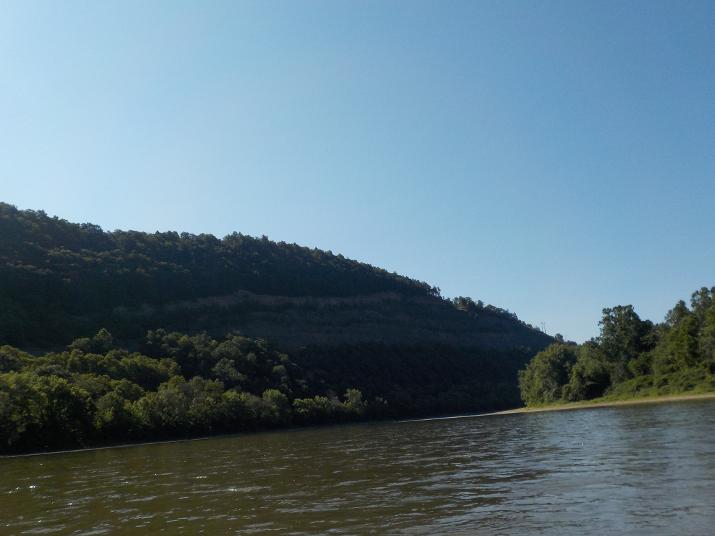 About 12 minutes after going under the Wysox bridge I encountered an area of choppy water (You can see it up ahead in this photo) that made for a fun ride. Some water did get into the boat. Stay on the far right side if you want to avoid the worst
A Blue Heron hunting for fish along the river bank. They are great hunters. And not just for fish. I have seen a few hunting well out of the water for mice, chipmunks, and anything else that they can swallow whole. One day I was sitting by the river bank when suddenly birds began squawking with great alarm and I could see them flying from branch to branch and making quite a racket. And then I saw a Blue Heron walking along the bank, but about 20 feet into the woods. It was spring and I presumed that he was looking for any fledglings that might have fallen to the ground or perhaps a nest he could reach with his long neck.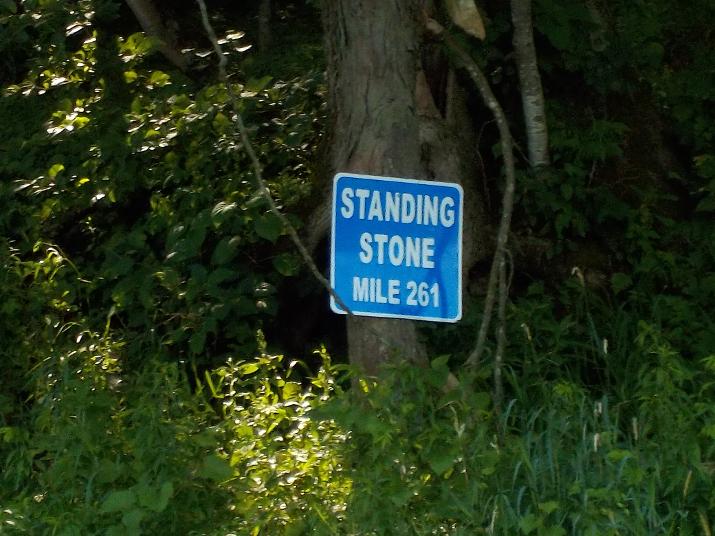 The mile marker at Standing Stone. I reached this point at 10:45. Two hours and 45 minutes from my departure from Towanda. I have traveled 10 miles in 2.75 hours, averaging about 3.6 miles per hour. Not bad for summer time when the water level is down and there isn't much help from the current. I did not know it at the time, and I did not take a photo of it, but there is a large obelisk-like stone on the river bank just a bit downstream of this mile marker. I thought it was unusual, but not enough to make me stop paddling and take a picture of it. But, later I realized that that's probably where the name "Standing Stone" comes from. I wish I had taken a photo, but I have to be judicious to conserve by camera's battery power.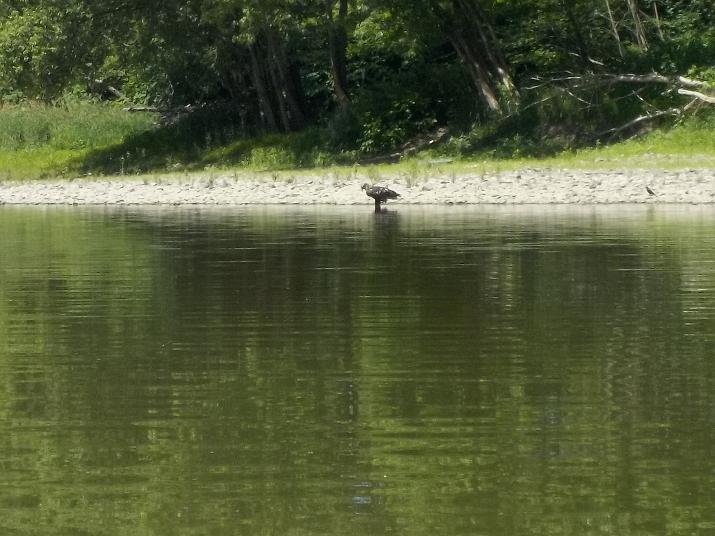 I am pretty sure this is a young Bald eagle. It does not have the characteristic white head of a Bald eagle, but I researched it and learned that they don't get the white feathers until they are sexually mature at around 5 years of age. I did not know that! And I bet you didn't either. This is the second Bald eagle I have seen on the river this summer.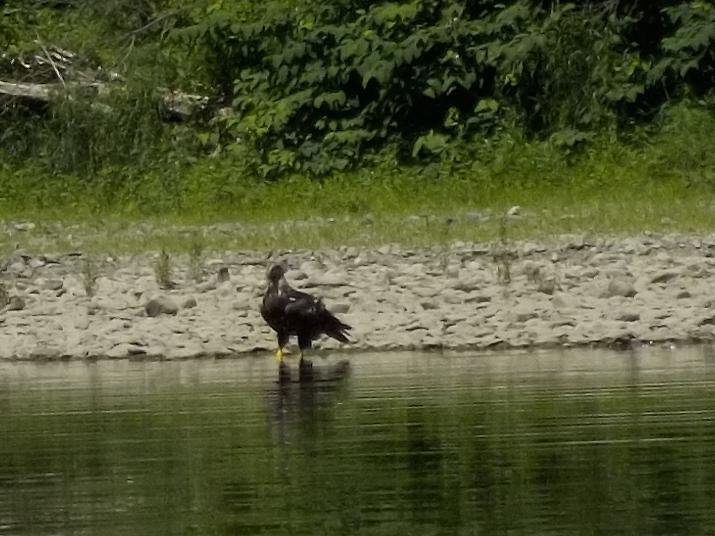 A close up of the same eagle.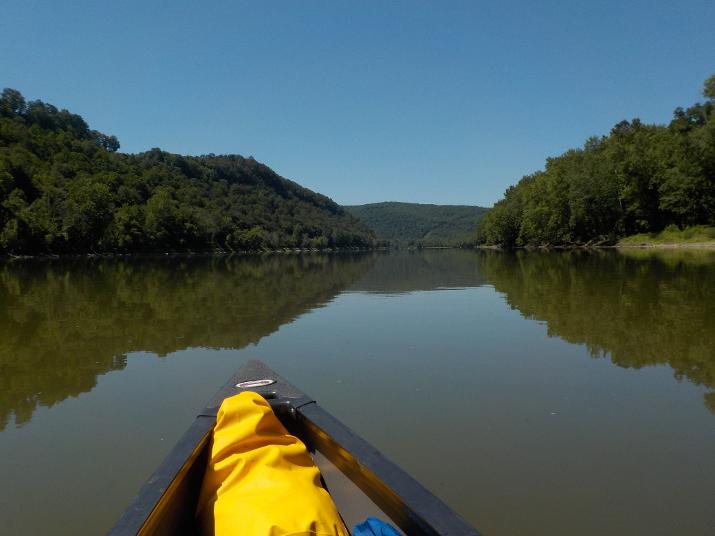 Just a nice view of the river. Note how calm the water looks. That's the way it is for long stretches at a time. But, then it gets exciting when I see rapids approaching.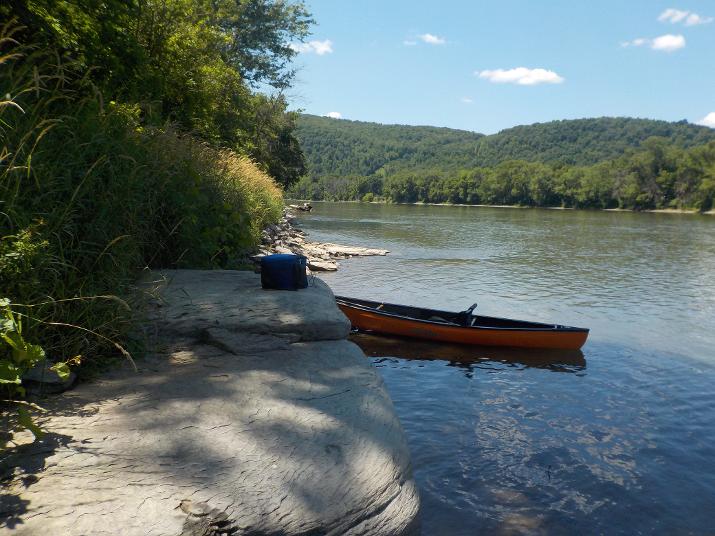 A great spot to stop for lunch. Believe it or not, it is often difficult to find a comfortable place to stop for lunch. More often than not I just sit on the ground on uncomfortable river stones. Other times I may find alog to sit on. This nice flat rock was a real treat. I sat on it with my feet dangling down (a real treat). And then I laid down and looking up at the blue sky I almost fell asleep.
I took my lunch break at 12:05 and was back on the river at 12:35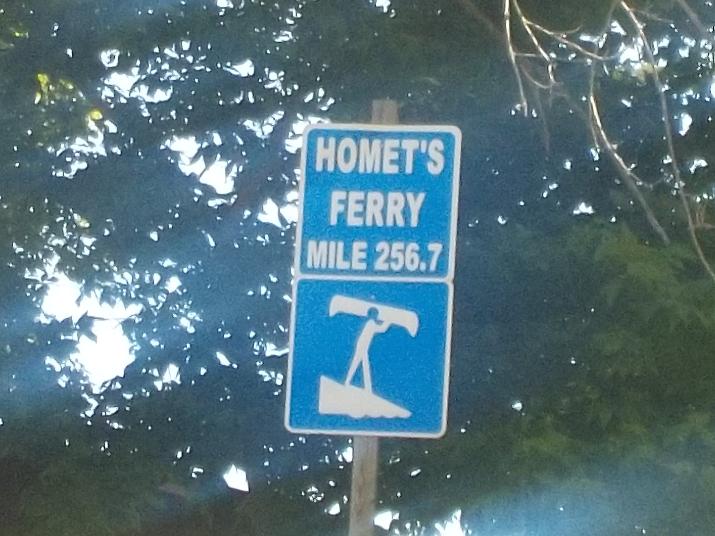 I reached the Homet's Ferry river access area (on the left bank) at 1:25. The mile marker shows that I have traveled 14.3 miles. Subtracting the half hour lunch break it means I have averaged about 3 miles per hour on this trip so far. But, here's the interesting part. I did the first 10 miles in 2 hours and 45 minutes, and it took me 2 hours and 15 minutes to travel these last 4.3 miles. That's just the way it is on the Susquehanna. There are long stretches of very slow water, and apparently the last 4 miles have been pretty slow. Something to keep in mind when planning a trip. One good thing about slow moving water is the ability to easily paddle back up stream.
I don't recommend starting out at Homet's Ferry. It is really off the beaten path and a hard place to find. Also, there is no parking lot and you would have to leave your car on the road. if you must use it, you can access it from Rt 6 just north of Wyalusing. I believe there is a road that has a "ferry" reference in it. When I explored the area I took that road and eventually I found the access ramp.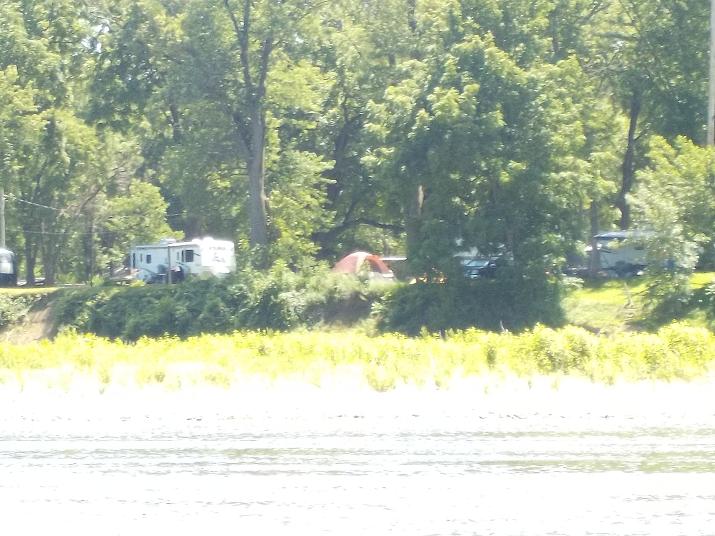 About 35 minutes after the Homet's Ferry boat ramp this camping area comes into view on the right bank. This is a camping area in Terrytown that is accessible from route 187. I do not recall the name of the camping site. But, there is a very nice public river access boat ramp and parking lot there.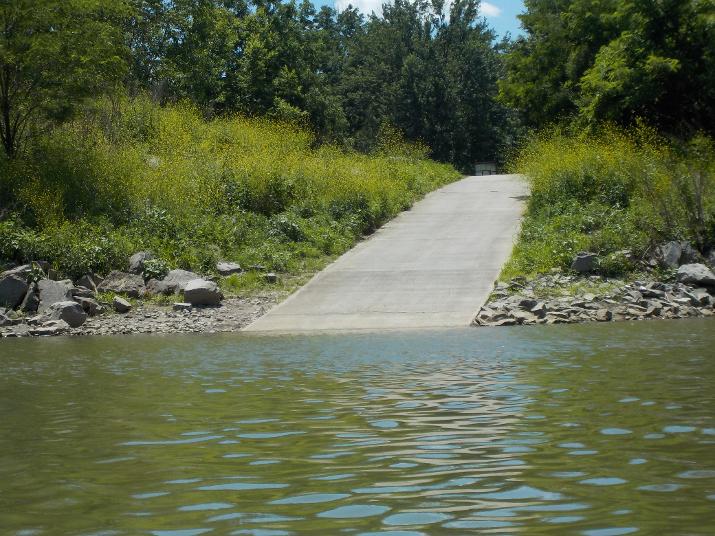 The Terrytown boat ramp. Terrytown is part of Wyalusing and may not appear on your GPS if you type in Terrytown. It is located on the opposite side of the river from Wyalusing. By the way, cell phone coverage in this area is poor. So, if you plan on having someone pick you up don't rely on the phone. Make a plan ahead of time so that the person who is picking you up knows where you should be at a certain approximate time. And also have a plan B in case you can't make it to the preferred objective. My brother picked me up on this trip, and before I set out I told him that if we can't communicate by phone he should look for me at the EMO river access at around 4 PM. If I am not there he should go to the Terrytown river access and look for me there. And if I am not there he should look for me at the Homet's Ferry river access. During the trip, when I had cell service I let him know how far I had gone so that he would have a last contact location. You should make this kind of plan even when there is reliable phone service. I lost my phone twice on the Susquehanna and you never know when it may happen to you.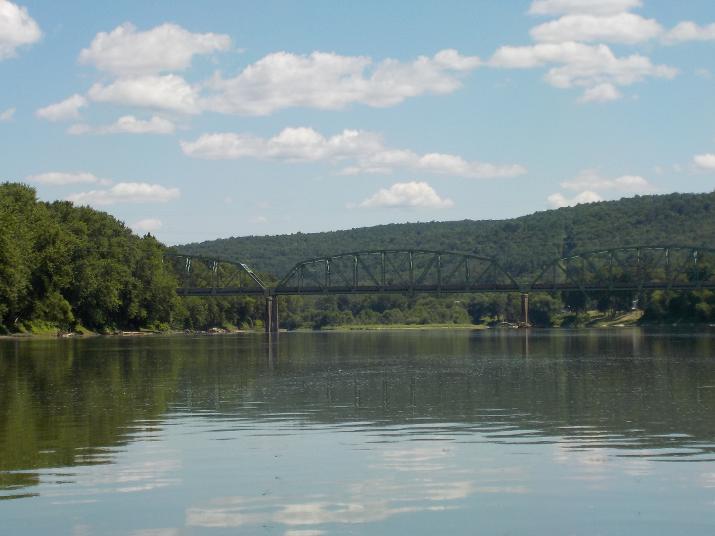 Soon after the Terrytown river access the Wyalusing New Albany Rd bridge comes into view. This bridge connects Route 6 and Route 187. The bridge came into view at 2:20 and I passed under it at 2:40. By the time the river came into view I had been paddling for over 6 hours in intense heat and in full sunlight (temperature got up to about 90 that day) and there was no help from the current. I was taking frequent breaks to drink water and kept changing position to try to ease the pain in my legs, back and shoulders. it was very slow going and I still had about 4 miles to go before reaching my exit point at the Endless Mountains Outfitters river access. TO BE CONTINUED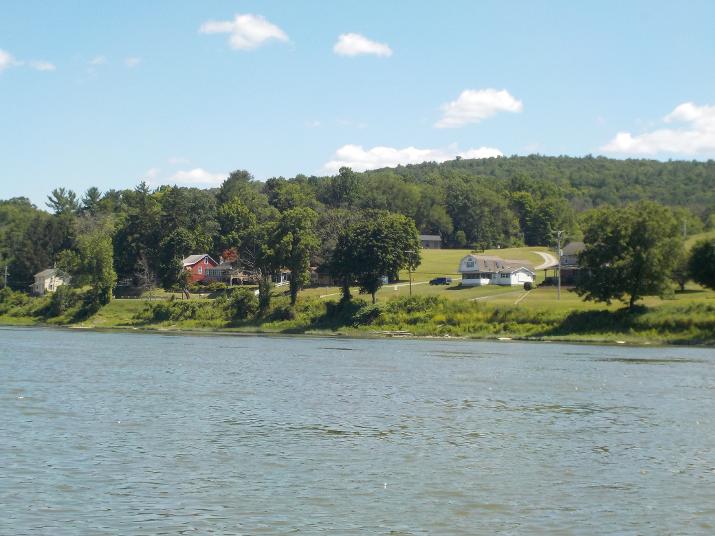 Shortly after the Rt. 187 bridge in Wyalusing the first homes in Sugar Run come into view. If you plan to exit the river at the Endless Mountains Outfitter river access make sure that you paddle over to the right side of the river at this point. There is a very large island coming up and if you stay to the left side you will miss the EMO access.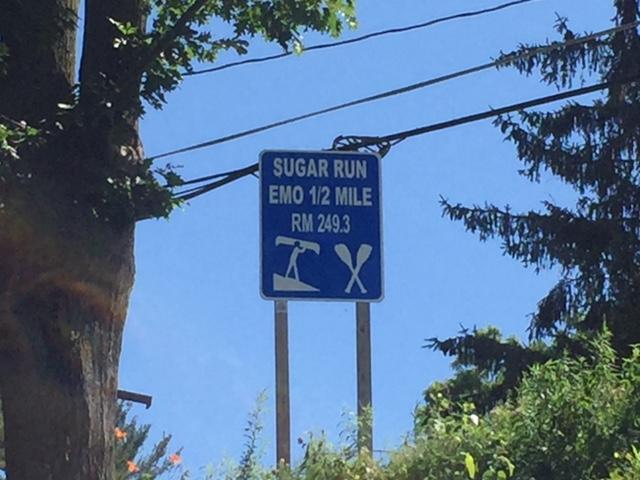 At 3:00 PM I passed this sign marker. There is no river access here. The sign shows the miles at 294.3 (to the end of the river at the Chesapeake bay and one half mile to the EMO river access. Note that this photo is smaller than the previous ones. I took it with my iPhone because my camera's battery was exhausted. I had a charger, but I was to tired to fool around with it.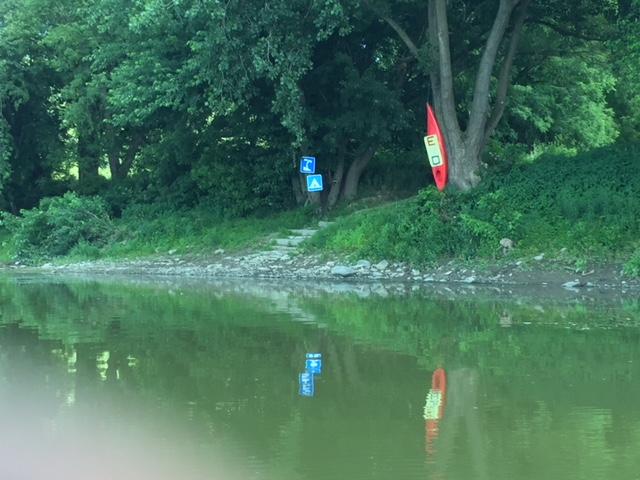 Finally arrived at the EMO river access point in Sugar Run at 3:10. 7 hours and 10 minutes after setting out from the Towanda Riverfront Park river access. Minus about half hour stop for a lunch break, it took me about 6 hours and 40 minutes to go 22 miles. average speed of just over3 miles/hour.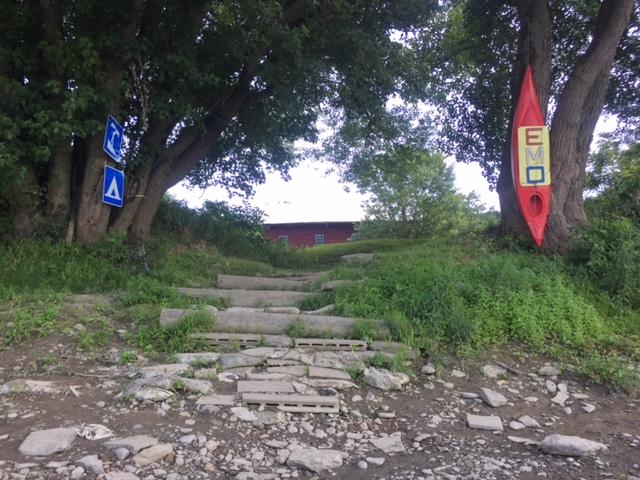 Steps leading up to the Endless Mountain Outfitters kayak rental business. I have communicated with Ken (I am pretty sure he is the owner) and he has been very responsive and a great source for understanding the river in this area.
So far up to this point I have paddled and documented 195 miles. I am looking forward to the next segment as I will be passing the 200 mile mark.