A first hand (not yet comprehensive) guide to paddling the complete length of the Susquehanna river. Or at the very least the Northern branch :-). I finally completed the Northern branch
By Dominic Cucé
" In rivers, the water that you touch is the last of what has come, and the first of that which comes" Leonardo DaVinci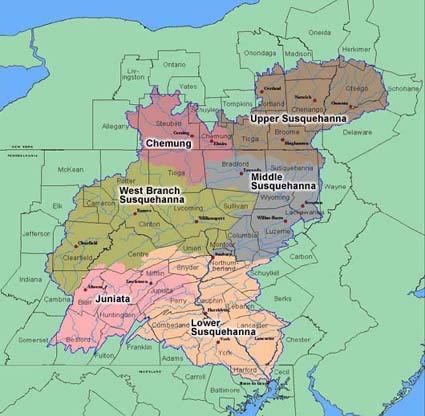 This update was made on March 25, 2020
I am sorry that I have not updated my site for a long time. I have been pretty lazy, but soon I will finish the last two sections that I paddled last season. As I have already written, I finished the Northern branch last year and I have to decide if I should continue to the Chesapeake bay (the mouth of the river), or if I should tackle the Western branch next.
The Western branch will be challenging for two reasons. First, it is difficult to know where I should start because it starts as a very small stream and does not get deep enough for paddling until someplace farther downstream. And of course it will also depend on the time of year and what amount of rain we have. The other reason is that some parts of it are very remote and it will be difficult for me to arrange for transportation back to my car.
But, i want to write this update because I read an obituary this past week that has had an emotional effect on me and wanted to pay some tribute. 39 year old poet Molly Brodak passed away by apparent suicide. I ever met Molly and I don't know her., But when I read one of her poems I felt as if she knew me. Here it is:
In The Morning Before Anything Bad Happens
The Sky is open
all the way.
Workers upright on the line
like spokes.
I know there is a river somewhere,
lit, fragrant, golden mist, all that.
Whose irrepressible birds
can't believe their luck this morning
and every morning.
I let them riot
in my mind a few minute more
before the news comes.
I know there are many people who because of the Coronavirus emergency are stuck at home right now with little to do. And, I hope that some can use this time to reflect on the important things in life, and perhaps think about ways to make their lives more peaceful. There is a river somewhere for all of us.
This update was made Sept 24, 2019
I am still working on adding the final two section of the Northern branch. I have made some good progress on the Shickshinny to Bloomsburg page, but I have only the very basics for the final page Bloomsburg to Sunbury.
I have been debating what I should paddle next. The choices are:
-Finish the Susquehanna down to the Chesapeake
-Start on the Western branch of the Susquehanna
-Start on one of the branches of the Delaware river (Western branch or Northern branch)
I am pretty sure that I will choose to finish the Susquehanna to the Chesapeake. But not totally decided. However, I have started my preliminary investigation so that I can make a plan.
I have already mentioned that I encountered my most significant incident on the river when I paddled the Shickshinny to Bloomsburg section. I have started to detail the incident in that page, but I thought I would mention it on this update.
It seems that as I get further and further down river the dangers increase. I thought it would be just the opposite. That there would be less and less rapids and that the water would be calmer. But what I found is that the rapids come at about the same frequency, but are bigger and scarier. So, from this point forward I will be studying the river much more carefully with the help of Google earth and will anticipate the upcoming rapids. And, as I approach them I might get out of the river and walk over and check them out before I try to run them.
During the incident I had my camera on video and I recorded the whole thing. The original video is about 7 minutes long but a lot of it is underwater because the camera was clipped to my life vest at chest level. The link below is a much shorter version, but captures the most exciting part.
https://drive.google.com/open?id=1Im92O1TT4d9_AdW7WGH7Z0XQ8tjeq16Khttps://drive.google.com/open?id=1Im92O1TT4d9_AdW7WGH7Z0XQ8tjeq16K
I'm not sure how far down the river I went before I could finally feel the riverbed with my feet and began pushing towards the bank. I could not get a good foothold because the current was too swift, but slowly I began to make progress and I was finally able to stop the boat against some rocks that jutted out into the river making for a calm pool. I looked back at the bridge and my guess is that I went about a quarter of a mile.
As I already mentioned, I give more details in the Shickshinny to Bloomsburg page, but wanted to mention it here because its really important to know that the river is getting more dangerous. And here is the most important part:
If that should happen to you don't worry about any of your belongings or even the boat. Focus on your safety first. The river has a pattern of slow then fast, slow then fast. There are way more slow areas than there are fast ones, and before long all of your belongings (as long as they can float) will come to a calm area where the current is minimal. That is exactly what happened with my gear. I found my cooler, my notebook, a bottle of water and a few miscellaneous items floating near each other in a pool like area.
What you don't want to do is to exhaust yourself trying to rescue your gear or your boat. That's how people get heart attacks and drown. In this particular case I happened to be able to grab on to the boat and just float with it. I did a minimal amount of work to bring it to the bank, and I never felt that I was working too hard.
This update was made September 10, 2019
I started the pages for my last paddle trip Shickshinny PA to Bloomsburg PA and Bloomsburg PA to Sunbury PA. So far I have only the very basic details, but I plan to finish at least one of the pages before the end of this week.
I mentioned on my last update that I finally finished the Northern branch (318 miles) of the Susquehanna, but I think it's worth repeating it in this update. My original plan was to do the whole river, and I thought I could finish it in a couple of seasons. But, as I have written in previous updates, the responsibilities of life got in the way and made very slow progress. At one point I decided that I should make it a bit less ambitious and just go for the Northern branch. So, I at least accomplished my plan B. But, now I feel that I should put plan A back into play and I'm thinking to finish the rest of the river down to the Chesapeake bay.
But I am struggling with that because there are other options. The Western branch would be much more scenic and I am tempted by that. I'm also tempted by the Delaware river. Like the Susquehanna, the Delaware has two branches that come together; the Western branch and the Eastern branch. The start of these two branches are much closer to my home than the Western branch of the Susquehanna. 4.5 hours for the Delaware, 10 hours for the West branch of the Susquehanna. I'm also tempted by the Connecticut river here in New England.
What I am almost settled on is that I should finish the Susquehanna. If I do one trip in September and one in October I may be able to finish it this year. It's 128 miles from Sunbury to the Chesapeake and its possible for me to do it in 6 days of paddling.
Stay tuned.
This update was made August 29, 2019
I finally finished paddling the 318.9 mile long Northern branch of the Susquehanna river. I paddled a 22.6 mile segment (Shickshinny to Bloomsburg) on August 26 and, the final 23.7 mile segment (From Bloomsburg to Sunbury) the following day, August 27. I'm hopeful that I will soon be able to update the website with these two additional segments.
If you follow my website or if you are planning to paddle the Susquehanna you should read these last two segments. I will give complete details in the particular pages, but on the August 26 paddle I suffered the worst incident on the river. My boat got swamped and overturned when I went down a very large and unexpected rapid. I held on to the upside-down boat and we were swept down river about a quarter of a mile before I could feel the river bottom with my feet and slowly push me and the boat to the shore. You definitely want to avoid those sets of rapids and I will let you know exactly where they are and other particulars in the page.
This update was made August 13, 2019
I just added a history section to the Sydney to Ouaquaga page. Check it out. I think its pretty interesting. What I try to do with the history section is to pick an event that is not widely known, but that helps us to understand what the area was like at a particular time and thus give us a better understanding of American history. The section I just added deals with the Anti-rent wars and the Patroon system that was established in NY, PA and NJ.
I was channel surfing at home one day and I stopped when I saw Vincent Price's face in an old black and white movie. I hit the info button and the title of the movie came up as "Dragonwyck". That sounded interesting and I started watching. the scene playing at the time was of Vincent Price sitting on a throne-like chair and tenants being called up one by one and being asked when they would make payment on the rent for the land they were working. The Vincent Price character was being referred to as the Patroon and I found that interesting because I had never heard that word, but it sounded very much like the Italian word Patrone (owner) and Spanish word Padron also meaning owner.
I did a little research and found out that in the 1600's the Dutch authorities in what was then known as New Amsterdam would grant large tracts of land and the title of Patroon to certain individuals. These tracks of land would be knows as Wycks (or patroonships). In exchange for these land grants the Patroon was to develop the wyck by bringing in 50 families within 5 years to work the land (farming, trapping, timber logging). And, the products where to be sold to Dutch companies such as The Dutch Indian Co. The patroon was given great powers over these people. He could make and enforce the laws and would approve (or disapprove) marriages; a very big power at the time.
The movie Dragonwyck was based on a novel of the same name and was set in the mid 1800's, the time when this system was coming to an end. I think its worth watching.
The Patroonships were established along rivers (mainly the Hudson and Delaware) and I very much wanted to find one along the Susquehanna. But, I found no evidence that any were established along it. As a matter of fact I learned of one that extended from the western branch of the Delaware to a line one mile from the Susquehanna (In the area of Sydney, Oneonta). The writing did not explain why it stopped one mile from the Susquehanna, but I can venture a guess. That land was purchased from the native Americans that lived there at the time and I think they wanted to keep the Susquehanna for fishing and transportation. And, most likely the Europeans readily agreed because they did not have much use for the Susquehanna. For one thing it is too shallow to allow anything other than canoes and small boats to travel it. And the mouth of the river is way down in Maryland, outside the sphere of influence of the Dutch. The mouth of the Hudson is New York City and the mouth of the Delaware is Philadelphia and both of these areas had been claimed by Dutch explorer Cornelius Mey in the 1620's.
This update was made August 5, 2019
I finally finished writing and posting the section "Hanover Township PA to Shickshinny PA" a fun 14 miles. This puts me at a total of 271.3 miles paddled. I know the mileage for sure because the Shickshinny river access area has a mileage sign.
I have about 50 miles left to go to finish the Northern branch and I have yet to decide if after that I should continue to the Chesapeake bay, or if I should tackle the Western branch. I am leaning towards doing the Western branch next because it is bound to be much more scenic, but on the other hand it would be a nice accomplishment if I completed the river to the Chesapeake bay.
I'm hoping to finish the Northern branch before the end of August. Shickshinny PA (where I left off on my last trip) is about 50 miles from Sunbury PA where the Northern and Western branches meet. Under the present conditions of the river it will probably take me 2, 6 hour days and one 3 hour day. But, if we get a lot of rain the river current may be faster and I may be able to do it in 2 days. The most miles I ever did in one day was 31 miles.
This update was made July 18, 2019
I just started the page "Hanover Township PA to Shickshinny PA" It's not finished yet, but hope to complete it in the next few days. This segment is only 14 miles, but I saw some surprisingly beautiful scenery and encountered the worst rapids on the river so far (271 miles). My boat was swamped and I almost tipped over.
With the completion of this segment I have paddled about 271 miles, and have about 50 miles to go to finish the Northern branch.
This update was made July 17, 2019
Last Friday, July 12, I paddled a 14 mile section between the Hanover Township river access (just below Wilkes-Barre) to the Shickshinny river access. I had wanted to do a longer run, but the next access was another 10 miles downriver; too far for a very slow moving river and the late start that I got that day. But, I'm glad that I decided to do just the 14 miles. This gave me a chance to take a lot of photos, make good notes, and enjoy the surprisingly beautiful scenery. I did not know what to expect in this area. I thought I had already passed the best scenery when I paddled thru the Endless Mountains area last year. But this section was just as beautiful and wild.
Soon I will be adding a page that I will title "Hanover Township to Shickshinny" that will detail the section. This now puts me at about 272 miles paddled so far with about 44 miles left to go in order to finish the Northern branch.
This update was made July 9, 2019
I just finished the page titled Harding PA to Wilkes-Barre PA" Actually the boat ramp is just below Wilkes-Barre in Hanover township.
I'm looking forward to adding a History section to this page. A lot has happened here and there's a lot to choose from.
I briefly mentioned the Wyoming Massacre in the page and I want to write a little more about it here. It was a battle that took place during the revolutionary war on July 3, 1778. The battle was between American patriots on one side and Loyalists (Americans who did not support the revolution) and Iroquois warriors on the other. The basic details of the battle are these: it lasted about 45 minutes and ended when the American Patriot line broke and the inexperienced militiamen ran. The Loyalists and their Native American allies gave chase and killed about 300. Giving no quarter to those who surrendered. This, and allegations of ritualistic killing and dismemberment is what labeled the battle a "massacre".
Researching the incident made me realize that the Revolutionary war was not just a revolution against an occupying force (Britain), but rather it was more like a civil war. Just about all of the participants of this battle were Americans. The Loyalists were proud to be English subjects and wanted to keep things the way they were. The Native Americans felt some degree of protection afforded to them by the British and worried that they would not fare well under a new government. The American Patriots felt that the current system was abusive to them and they could do better if they expelled the British and formed a new government.
Joe, the man I met during the paddle and mentioned in the page told me a bit about the massacre. He pointed to the island behind me and told me that many of the 60 militiamen who survived the massacre, and some civilians too, made it to the island and hid there away from the carnage. Its a bit sobering to actually be at the very place where years earlier a terrible and bloody incident happened. It felt as if it didn't happen that long ago.
This update was made June 27, 2019
I just added a new page titled "Harding PA to Wilkes-Barre PA", but for now it contains only the very basics. I'm in the process of organizing my photos and then I will complete the page. I made the 16 mile trip on June 18. this puts me at 259 miles paddled so far, with about 60 miles left to complete the Northern branch.
This section is not especially scenic, but it is very interesting; a great deal has happened here and I'll write about it on the next update.
This update was made May 22, 2019
I finally finished the Meshoppen PA to Harding PA section. I made that paddle on October 4, 2018 and now I am ready to pick up where I left off. My goal for the 2019 season is to paddle down to Sunbury PA where the Northern branch (the one I'm paddling) meets the western branch. I think it's a little more than 70 miles and I should be able to finish it in three or foursections.
On a recent trip to PA I scouted downstream about 20 miles. This area is heavily populated on both sides of the river (Pittston, Wilkes Barre, Kingston, Plymouth and other towns), and although I don't much care for paddling thru urban areas I'm looking forward to it just the same because of the history of the area as it relates to the river.
I was hoping that I could get back on the river in May, but it looks like I won't be able to do it until early June.
This update was made April 22, 2019
Well, I finally added the Meshoppen PA to Harding PA page that details my latest paddle (October 4, 2018). Sorry for being so late but at least I'm adding it before paddling season begins in earnest (earnest is not a place LOL). I did start it, but it is not completed. I promise I'll finish it within this week. And on my next update I will tell you about my next project. It has to do with the Salmon river in Idaho. Also known as the River Of No Return. Stay tuned.
This Update was made made March 19, 2019
I have just updated my website to include the trip I made on August 17, 2018. From Sugar Run, PA to Meshoppen, PA. check it out.
On my previous update (January 23, 2019) I wrote about the spinning ice circle that developed on the Presumscott river in Westbrook Maine (see below). At the end of the update I asked if you can guess which direction the water is flowing (from top of the picture down, or from the bottom of the picture up).
My guess is that its from the top of the picture down. Why? because since the circle is spinning in a counter clock direction it must mean that the left side must be experiencing a stronger force than the right side. As you can see in the photo, the left side is closer to the middle of the river. And, as Leonardo Davinci tells us the current in the middle of a river is stronger than that on the sides. If the river was flowing from the bottom of the picture to the top of the picture the circle would spin in a clock wise direction.
But, here's something strange; after writing about the ice circle on the Presumscott river, I noticed a bunch of ice circle on the lake on which my house is situated.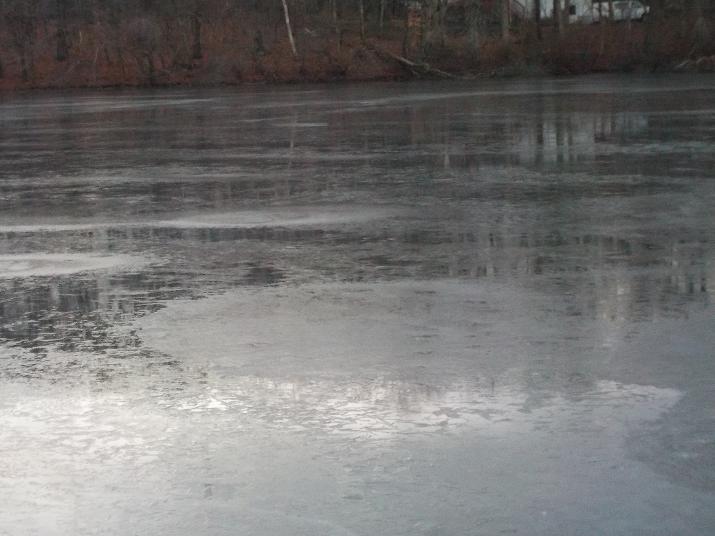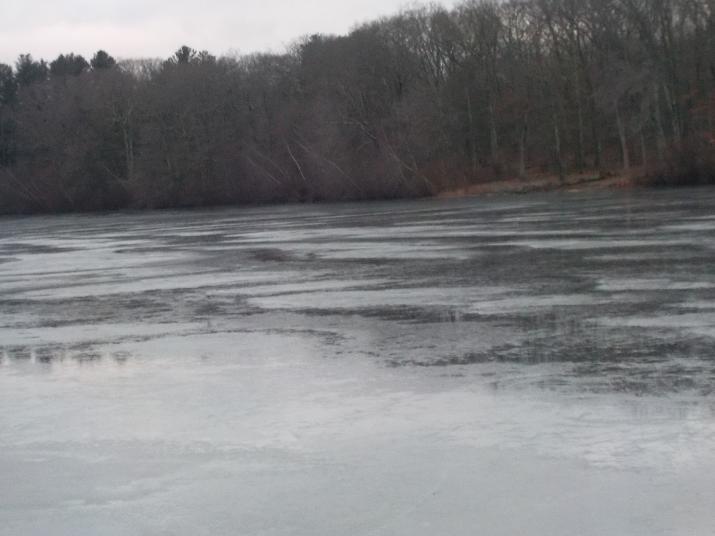 The lake was covered with impressions of circles. I have a theory of how they happened. But too difficult to explain (I'm too lazy). I took the above two photos on January 30.
And then, on March 2 I observed some other circle impressions on the ice. see photos below. There is no current in this lake. So, what made the circles. Like I wrote above, I think I know.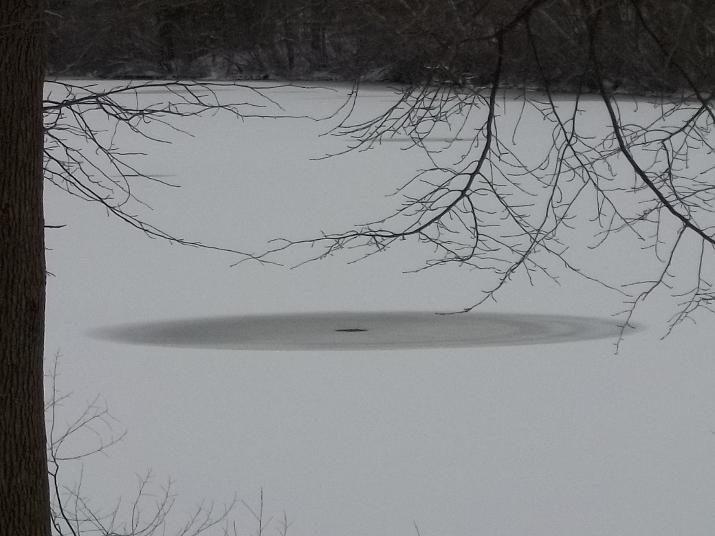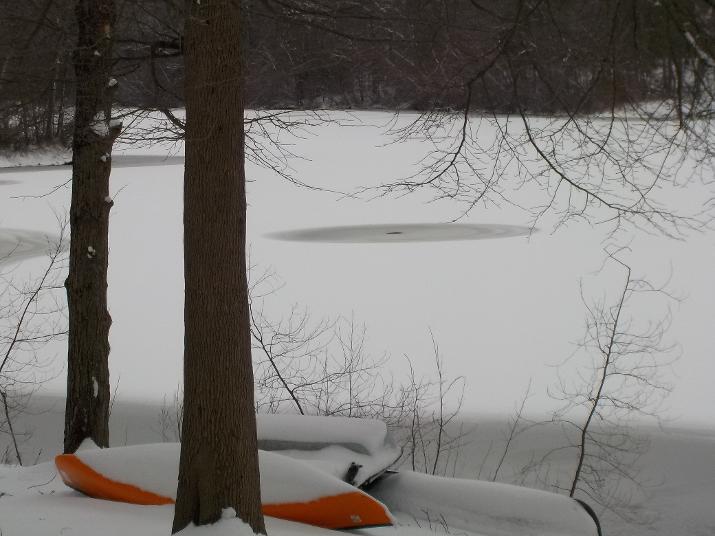 This update was made January 23, 2019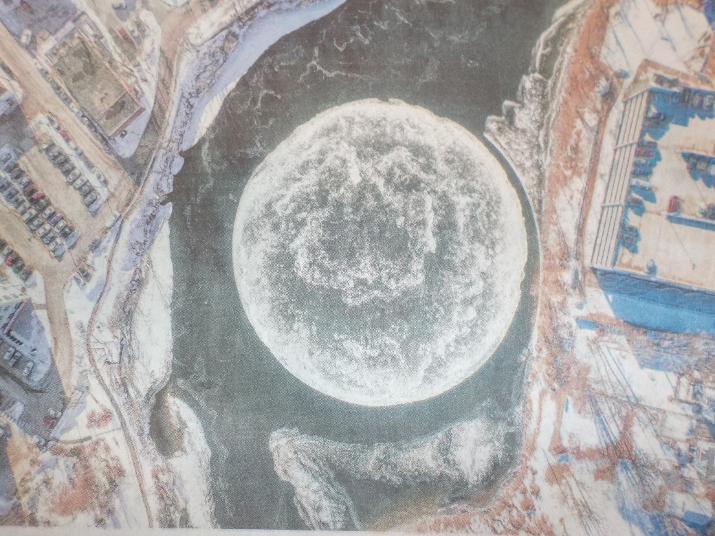 Very recently the above photo appeared in newspapers all over the US and became an instant social media event. I saw it in the Boston Globe and took a photo to add to my website. The spinning (counterclockwise) ice disk shown above occurred in Westbrook, Maine on the Presumpscott river. Nothing to do with the Susquehanna river, but I wanted to show it because it relates to the last update (Dec 28, 2018) in which I wrote about river currents. In that update I mentioned that the current of a river is not uniform across its width. And, this is why the above ice disk formed and why it spins. Not because of some extraterrestrial being trying to send us a message; as was suggested by many on social media. So, how did it happen?:
If you look at the water flowing in a river you are bound to see a lot of eddies swirling here and there. As a matter of fact, on my last paddle on the Susquehanna I stopped for a lunch break but the mosquitos were fierce and I decided to get back in my boat and just drift along while eating my lunch and resting (No mosquitos in the middle of the river). Whenever I drift my boat turns around and I end up facing backwards. Here the river was pretty wide and calm and I was not concerned about running into any danger . But, just as I bent down to pick up my water bottle I became a little dizzy because my boat started to spin and I became disoriented as the scenery around me began to spin. I realized right away that the boat got caught in an eddy and I quickly paddled out of it. I was never in any danger. The eddy was not powerful enough to suck my boat in like you see in the movies. But, it was powerful enough to spin the boat and make me dizzy.
The spinning disk was made when a piece of ice was caught in an eddy. It began to spin and as it got colder more and more water froze to the outside edges and it grew to its preset size and shape; A spinning object will take a circle shape (that's why pizza makers toss and spin the dough in the air. The reason it is spinning is because the current on one side is stronger than the other side and it spins the disc in the direction of the stronger force.
Here's a little test: Can you tell in the above photo which direction the river is flowing? is it from the top of the photo down or the other direction? I provided an important clue in the above writing, and if you read my previous update you will have enough info to assume the correct answer.
I'll tell you on my next update.
This update was made Dec. 28, 2018
To each of the paddle sections I have added the altitude drop over the length of the section. For example from Cooperstown to Portlandville; 48 feet. This info may be useful to determine what kind of current you will encounter. But, to be frank, after thinking about it for a while I have decided that it may not be that useful for those sections that have dams (because the dam causes a dramatic drop all at once rather than spread out over the course of the river. But, its still interesting info and gives me an opportunity to write about a topic that needs to be considered.
What distinguishes rivers from other bodies of water is the journey from their sources to the ocean. The force that powers rivers is gravity. The water in rivers only moves downhill. So, each river begins at a higher altitude than at any other point along its course. The Northern branch of the Susquehanna begins its journey at 1,180 feet at Cooperstown NY and ends up at sea level (0 feet) at the Chesapeake bay. For comparison, the Salmon river in Idaho (a river that I am interested in paddling next) drops 7,000 feet from its source to its confluence with the Snake river. The Salmon river and the Susquehanna river are about the same length (around 450 miles). No wonder that the Native American name for the Salmon river is The River Of No Return; the current, over much of its course is too strong to allow paddling up stream. Not so with the Susquehanna and most of the rivers on the east coast. Native Americans as well as Americans of European origin in colonial times and right up to the 1800's used the Susquehanna as a highway to transport goods and people making the river a kind of unifying thread connecting towns and villages along its course. But, there is a science behind up stream paddling:
Near the very top of this page I show a quotation from Leonardo DaVinci "In rivers, the water that you touch is the last of what has come and the first of that which comes" . I have found this quotation to be not only scientific but, also philosophical and inspiring and wrote about it in one of my previous updates. Leonardo devoted a good portion of his life to the study of water and fluid mechanics. And, discovered many interesting and useful things; including how heart valves work. He theorized that the valves close, not because of a muscle doing the work, but due to the force of the eddies made by the blood as it passes thru the valve and flows back to use up the excess energy as it encounters resistance on the other side. This theory was finally proved to be correct only a few decades ago. One other interesting Leonardo discovery, and more relevant, is that the current in rivers does not travel at the same speed across its width. Generally speaking, the water in the middle flows faster than the water along the banks. So, when traveling downstream stay in the middle, when traveling upstream stay along the bank for less resistance from the current. This past October, when I paddled the last section (from Meshoppen to Harding) the river was in flood and the current strong. I passed by a river mileage sign and by the time I turned on my camera I was well past it. I decided to paddle back but the current was too strong for me to make any headway, but when I paddled off to one of the banks the current was practically gone and I paddled upstream with very little effort. Why is it that the water does not flow at the same speed?
Well, its because everything we experience happens at the molecular level. The water molecules that come in contact with the river channel encounter resistance (gravity propels them, rocks, mud, etc. want to grab on to them and slow them down). in turn, the water molecules that are being slowed down by the river channel want to grab on to the molecules around them, slowing them down too. And so on, but each time, some of the energy is transformed and the grabbing force becomes weaker and weaker and gravity wins over. So, the further away from the river channel the faster the water flows. The old saying "Still waters run deep" is not true in rivers. Try it next time you are on a river.
Here are the main factors that determine the velocity of a river:
-The shape of it's channel
-The gradient of the slope (why I looked up altitude drop)
-The volume of water carried by the river (why the river moves faster during a flood)
-The amount of friction caused by the rough edges (Smooth river channel moves water faster than a rocky channel)
This update was made Oct. 26, 2018
I uploaded some videos to my Instagram account: cucedominic check it out. I'll update more later
One word about safety: as I wrote in my previous update, NOAA puts out charts that show river levels on a daily basis and makes predictions for the next few days. Keith at Endless Mountains Outfitters (Sugar Run. PA) told me that they don't put people on the river if the level is at 4 or above, and also told me that normal height is usually around 2. I was surprised to learn this because in August I paddled from Sugar Run to Meshoopen and did not encounter any problems even though the river was at a much higher stage; probably at around 16. But, on my latest run (Meshoopen to Harding) with the river at about the same stage as in August, I did run into some really rough and prolonged water that maybe for the first time on the river really gave me a scare, and forced me to psychologically steel myself for the possibility that my kayak would overturn and dump me into the churning waters. I remember thinking, almost speaking it, ''don't worry Dominic, the worse that's going to happen is you end up in the river, your life jacket will float you to calm water where you can retrieve your boat, change into your spare dry clothes and finish the trip''. But, that's not necessarily the worse that can happen. I know of one very serious white water paddler (a very experienced paddler who was an acquaintance of my son) who drowned when his kayak overturned and he was pinned between two boulders. I chose to paddle on those days because I wanted to experience and write about what the river is like when in flood stage. I did have some trepidation, and I would not have done it if there where people who depended on me. But, my kids are grown and on their own, and I have no responsibilities. Professional people like Keith know what they are doing and are the best people to let you know when its safe.
I picked up a brochure put out by the Coast Guard that lists 10 safety tips:
1)Always wear your life jacket
2)Don't drink while paddling ( No need to explain that they mean alcohol; right?)
3)Stay low (to lower your center of gravity to avoid capsizing)
4)Keep your balance (distribute gear and equipment evenly. don't bring your dog; I have tried that with negative results)
5)Practice the wet exit (how to get out, hang on and re-enter your capsized boat)
6)Don't get left in the cold (Dress for the weather and be prepared for immersion. I tell everyone that when you paddle its almost certain that you will get wetter than you had hoped).
7)Plan ahead (I have written quite a bit about this. You should always know where you are going, what the area looks like; I look at Google Earth to familiarize myself with my surroundings, make sure someone on land knows that you are on the water; I always let my son or someone close to me know when I'm about to get in the water and when I expect to get out)
8)Never paddle alone (I pretty much always paddle alone, but as I wrote earlier, it's a risk that I can afford to take because my family is grown and not dependent on me)
9)Be in command (the Coast guard brochure states: Know how to move your boat forward, back, and sideways, and how to stop using paddle strokes. Watch ahead for hazards like undercut rocks, bridge pilings, large branches and trees, big drop-offs and other boats). Submerged objects that are just a few inches from the surface are my biggest concern. Usually you can't see them until you are very close and often can't stop on time. I have capsized a couple of times because of underwater objects. And big-drop offs are pretty common on rivers
10)Learn about your boat (The Coast Guard brochure states: Consider taking a canoe or kayak safety class. call 1-800-929-5162 or visit www.acanet.org to learn about classes offered by the American Canoe Association
This update was made Oct. 9, 2018
On Thursday Oct. 4th I made a 31 mile paddle from Meshoopen PA, to Harding PA (just above Pittston). This is the longest I have paddled on the Susquehanna in one day, and it took me only 5 and 3 quarters hours. This is an average speed of about 5.4 miles/hour. The distance and speed was possible because the river was high due to recent rains. The river was already high from a very wet summer, but on Tuesday Oct. 2nd the area was hit by a series of thunderstorms that spawned 6 class 1 tornadoes and dumped more heavy rain raising the river even higher. That day, as I prepared for the trip, I text Keith at Endless Mountain Outfitters and asked him what he thought the river would be like on Thursday. He answered "unpredictable" He then sent me a chart that is put out by NOAA (more on this later in the A Little Help From My Friends page) that showed the current river depth and predictions for the next couple of days. The prediction for Thursday was about 7 feet. Then he added "We don't put people on at 4 or above. It's usually at 2".
I'm looking forward to writing the page Meshoopen PA to Harding PA. The taxi driver that took me from Harding (where I left my car)to Meshoopen (where I had left my Kayak the day before) made an impression on me, and with her permission I will write a little about her and our conversation.
On the way back to my home in Massachusetts I drove on route 87. This highway connects Binghamton NY and Albany NY, and it crosses the Susquehanna river at many points where I have already paddled. I looked down at the river as I passed over the bridges and I could not believe how narrow it is compared to where I had just paddled.
Videos: I have had a hard time uploading my videos to the website. So I have started to put them up on my Instagram. I have uploaded only a few, but in the next few days I will add more from past trips.
This update was made Sept. 20, 2018:
I just completed and published the page titled "Towanda PA to Sugar Run PA" I made this paddle on July 12, 2018. 22 miles in very sunny, hot and humid conditions that took a toll on me. At the end of the paddle my brother came to pick me up and I recall saying to him "it feels like I just ran a marathon with my arms". And' I felt that I needed a break from the river. But, a day later I felt just fine and planned another segment; Sugar Run PA to Meshoppen PA. 17 miles. I made this run on August 17 while the river was in flood stage from heavy rains on August 15 and 16. I'm looking forward to writing about this segment as I achieved two milestones: I crossed the 200 mile mark (212 miles) and clocked my fastest speed so far (5.6 miles/hour)
This update was made on August 27:
I just completed and published the page titled "Sayre PA to Towanda PA" I made this paddle of June 21, 2018. Since then I made two more runs, Towanda, PA to Sugar Run PA and Sugar Run PA to Meshoppen PA. I hope to publish these two within the next couple of weeks.
This update was made on August 22. 2018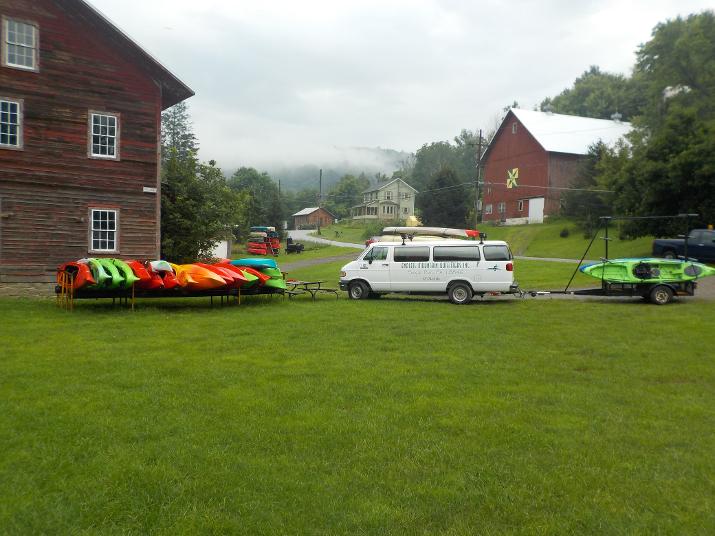 The photo above is of the Endless Mountain Outfitters kayak rental place located directly on the Susquehanna in Sugar Run, PA. This is where I exited the river on July 12 when I paddled the section from Towanda to Sugar Run, and reentered the river on August 17 when I paddled the section between Sugar Run and Meshoppen. Keith, owner of EMO has helped me with info and advice for that area. He has been very responsive and I really appreciate it. As the river winds thru the Endless mountains of PA, I find this section to be the most scenic that I have experienced so far. If you have been thinking of a kayak adventure for this summer check out EMO. Plenty of water on the Susquehanna this year and you're bound to have a fun day. Great thing to do for a corporate team building activity.
On Friday August 17 I paddled the Sugar Run, PA to Meshoppen, PA section of the Susquehanna; 17.1 miles. On this trip I achieved two milestones: 1) I crossed over the 200 mile mark. So far I have paddled 211.3 miles of the northern branch which originates at Cooperstown NY. 2) I did it in only 3 hours which makes this the fastest I have travelled on the Susquehanna; 5.7 miles per hour. The fastest time before that was on the Oakland PA, to Hallstead PA section. I paddled that 8 mile section in 2 hours; 4 Miles per hour.
On Tuesday and Wednesday (August 15 and 16) Northeast PA was deluged with heavy downpours that flooded streams and washed away several roads. I drove down to New Albany PA on Thursday the 17. I got within 10 miles of my brothers cabin and came upon a sign informing that route 220 was closed ahead. I took some back roads that put me back on 220 past the road closure only to find that a few miles ahead the road was closed again. This time I could not find a way around the closure and had to backtrack to Towanda where I picked up Route 6 south to Wyalusing and from there took a few back roads that took me to the cabin. This detour added an hour to my trip. New Albany was especially hit hard by the floods and the governor of PA, Tom Wolf visited the town on Wednesday to survey the damage.
On my way down on Thursday I communicated with Keith, owner of Endless Mountain Outfitters (kayak rental place on the Susquehanna in Sugar Run PA) and asked him if it was safe to paddle. He told me that it was not safe as the water was still high and he could see a lot of debris still floating by. Paddling the Susquehanna during a flood is very dangerous. Doing it alone is even more so and I pretty much decided that I would not paddle the next day.
Friday morning I left my brother's cabin with the idea that I would go to the river and check on the conditions. Most likely I would not paddle, but I could take some photos for my website. Along the way I stopped at a few places along the river to check on the conditions and take photos. By then the level had subsided quite a bit (I could see evidence of how high the water had risen) and I did not see any debris except just a few dried out reeds and small sticks floating here and there. Keith's advice the day before was very sound, I am sure conditions the day before where much worse. But, after looking at the river that morning I decided to go ahead with the planned paddle from Endless Mountain Outfitters to the boat ramp in Meshoppen PA. It was a very fun paddle and I did not encounter any trouble along the way. I'll write more details when I write the Sugar Run PA to Meshoppen PA page (hopefully soon).
This update was made August 8, 2018
I just finished and posted two more pages: Exploring Hiawatha Island; and Nichols NY to Sayre PA. I also started another page; Sayre PA to Towanda PA ( I paddled this section on June 21, 2018). Then after that I will add Towanda PA to Sugar Run PA )I paddled this section on July 12) and I will be caught up. However, I am planning to paddle another section, Sugar Run PA to Meshoppen PA on August 17, 2018.
This update was made July 24, 2018
On July 12 I paddled a 22 mile section of the river. From Towanda to Sugar Run PA where I exited the river at the Endless Mountain Outfitters (Kayak rental in Sugar Run PA). This brings my total river miles to 195. I estimate that I have about 125 miles left to the end of the northern branch. The northern and western branches of the Susquehanna join at around Northumberland PA. I have not yet decided if I will continue all the way to the Chesapeake bay. That will depend on how I feel once I complete the northern branch, which I hope to do by the end of this season.
I have not yet created a page for this section, but in the next few weeks I hope to add 3 pages: Nichols NY to Athens PA; Athens PA to Towanda PA; and Towanda PA to Sugar Run PA. The two last sections are the most scenic sections of the river (so far) and very historic. I am looking forward to adding the pages. These sections hold a special place in my heart because I canoed on them in my youth and it is where I developed my love for the Susquehanna, and my desire to know what was there to see around the next bend. The native Americans who inhabited the area called the mountains thru which the Susquehanna winds its way The Endless Mountains, because as they looked in one direction and another they seemed to go on forever. The same is true for the river. Around one bend there is another bend, and another and so on seemingly forever.
This update was made June 26,2018:
Since the last update I have returned to the river and achieved the following:
1) I explored Hiawatha island and added a page to the site. The page is not finished yet, but should be completed in the next couple of days. I've written about the island before; in the section titled "Apalachin NY to Nichols NY". This island was used as a resort in the 1800's and later as a private residence. It was abandoned in the 1940's and the island contains many relics of the past.
2) In May I paddled the section of the river from Nichols NY to Athens PA. About 15 miles. I will add a page soon.
3) Just last week (June 21) I paddled the section of river from Athens PA to Towanda PA. About 18 miles. A really beautiful and historic section of the river. Maybe the most scenic so far. Also, a lot more rapids (nothing dangerous) than most of the other sections I paddled. The rapids made for a much more fun ride. Ihope to add a page in the next few days.
This update was made February 13, 2018:
I have completed the Area History section for two legs; "Cooperstown NY to Portlandville NY" and "Portlandville NY to Colliers dam" Please check them out.
My friend Dimitri forwarded to me a link to the Feb 12 airing of the NPR show On Point "The Rich History Of America's Rivers". I listened to the show and found it to be informative and fascinating. You should check it out. Here's the link:
http:www.wbur.org/onpoint/2018/02/11/the-rich-history-of-americas-rivers
By the way, Dimitri is an artist who produces some pretty cool stuff. You can check out some of his art at
This update was made on February 9, 2018:
As promised, I have finally started the Section History. Click on the "Cooperstown to Portlandville" tab and look for Section History. I would appreciate any feedback. Please write to me at domcuce@aol.com. I will add history to the other sections as time permits.
More thoughts: In the previous update (January 25, 2018) I typed a quotation that was found in one of Leonardo DaVinci's notebooks "In rivers, the water that you touch is the last of what has come, and the first of that which comes". I found this to be very inspirational and I wrote of how a river is often used to describe the passage of time (see below. January 25 update). I want to write some more about time and the river:
Physicists often describe time as having a direction (the arrow of time), and of course so does a river. The possibility of time travel is usually discussed in any Quantum Physics books and theoretically a machine may someday be invented that allows time travel. Then, the way I understand it, once that happens time travel is possible from the point in time that the machine was activated on forward. and from the future backwards. But only as far back as to when the machine was activated. In other words, if a time machine is invented say in 2030, then someone in 2050 would be able to go back in time to only 2030. It's a lot more complicated and I think you would find it interesting to read one of the physics books if you want a deeper understanding. In the previous update I mentioned how the river is a window into the past, but of course it is not a window into the future. That's fine with me. I don't care to peek into the future. There are monsters waiting there, just as there were monsters in the past. But, I survived the monsters of the past. No guarantee about the future ones.
I hope you don't think the thoughts I expressed above are negative. On the contrary, I think that accepting the ups and downs of life can be very liberating. The continuous pursuit of happiness can lead to bitter disappointment. Sometimes you just have to stop paddling and let the current carry you for a while.
This update was made on January 25, 2018:
"in rivers, the water that you touch is the last of what has come and the first of that which comes" About 500 years ago Leonardo Da Vinci wrote those words in one of his notebooks. 400 years before Albert Einstein wrote his theory or relativity, Leonardo took a stab at it and used the flow of a river to attempt to explain the passage of time. Pick up any book dealing with Quantum physics and the section on time will likely use a river in an attempt to explain it. It's easy to see why. Nothing says "time" like a river. It's impossible not to think of it as you paddle past so many signs of time gone by: The steep banks cut by the river over eons; the occasional stone worked by Native Americans centuries ago (I found an unfinished arrowhead last summer); the occasional vintage cars swept away in floods decades ago; the dilapidated and abandoned hunting/fishing cabins, and many other signs that bring images of times gone by flooding into your mind: Why was the arrowhead not finished? who used the cabin and why was it abandoned? A great way to help overcome the monotony of paddling is to make up stories in my mind. The maker of the arrowhead was interrupted by an emergency, like a raid by an enemy tribe; or maybe it wasn't turning out too good and he just tossed it. The old car was swept away during a devastating flood. The driver barely escaping with is life; or maybe he and his friends pushed it in to get rid of the old piece of junk.
I drove to New Albany PA a couple of weeks ago, January 11 to be exact. I stopped in Towanda and saw that the Susquehanna was completely frozen over; a sight rarely seen. We have endured bitter cold all of December and the beginning of January here in the northeastand and, I had expected that it would be frozen over. On the way down I passed by the area of Hiawatha island (the 112 acre island near Owego NY. See section Apalachin NY to Nichols NY). I did not have time to explore it when I paddled by it this past summer and on my January trip I had considered walking to it across the frozen river. But only for a few seconds. I quickly abandoned the idea when I noticed open water here and there. I hesitate writing about it here as I do not want to give anyone the idea to try it. But, I think its important to realize how dangerous a frozen river can be. Unlike a lake, the water under the ice continues to flow and can easily erode the ice above.It bothers me that I even thought about doing it. But, its a good reminder of how easily one can make a mistake in trying to save time. I will explore Hiawatha. But, I will paddle to it next summer.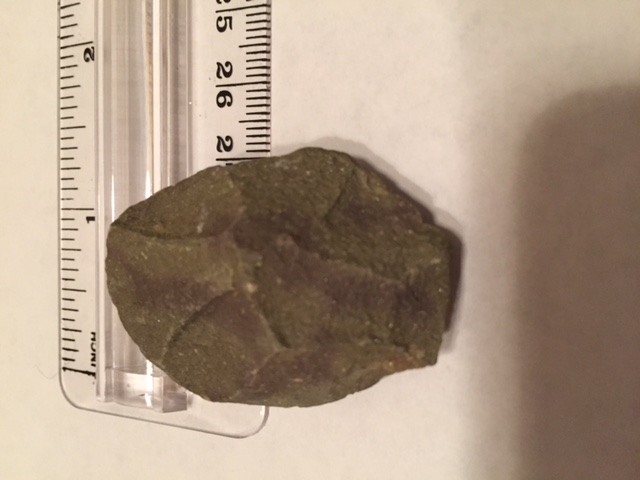 Top view of unfinished arrowhead. tool marks visible.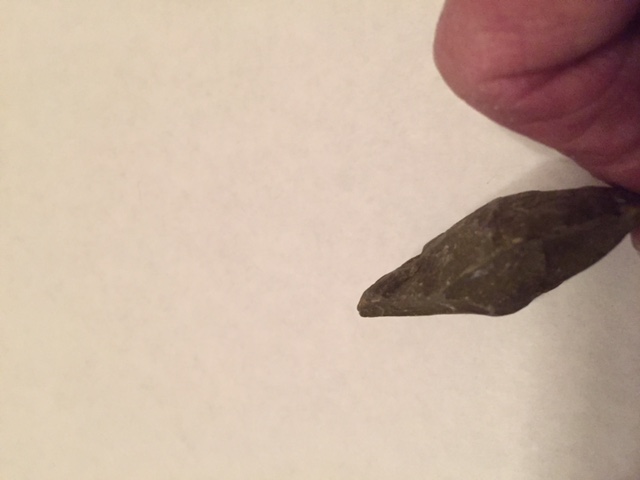 Side view of same unfinished arrowhead. I found it during the summer of 2017 along the banks of the Loyalsock creek around Forksville PA. The Loyalsock is a tributary of the western branch of the Susquehanna. it originates in Lopez PA and empties into the western branch of the Susquehanna around Montoursville PA (Just downstream of Williamsport, PA, home of the Little League).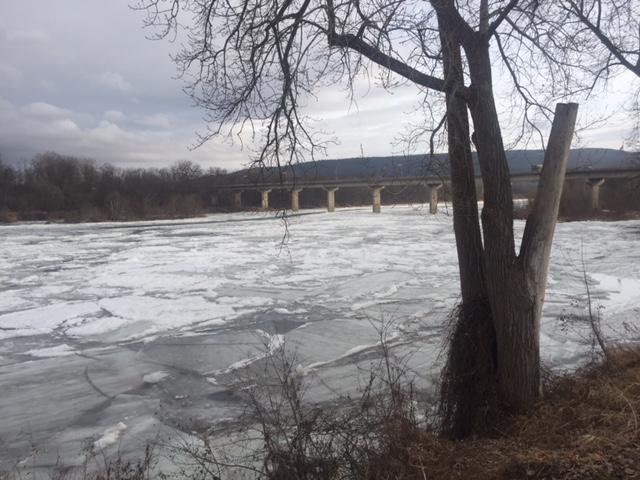 The frozen Susquehanna in Towanda PA. Jan 11, 2018.
This update was made on October 10, 2017:
A lot has changed since I started this project in the summer of 2010. At that time you could hardly get cell phone service on the river, and most people did not have a smart phone. Now with a smart phone you can see exactly where you are on the river, and if you want you can activate a "share my location" feature and a friend or relative can check your progress.
I just completed another section (from Apalachin, NY to Nichols, NY) that I estimate to be about 17 or 18 river miles, and I am motivated to update the site. And, because I recently retired I don't have much of an excuse to not dedicate more time. So, in the next couple of weeks I hope to update my site to include the sections that I mention in my last update (see below) and this last section that I paddled on October 5th. So far I have done about 150 miles of the river.
I decided that in the next few weeks and months I will add a history component to each section. I have a book, "Down the Susquehanna to the Chesapeake" by Jack Brubaker that gives the history of the Susquehanna river. I will take info from the book that correspond to the sections I paddled and add them to the site. I think it will be interesting to most paddlers to know a little history about the areas.
This update was made on August 13, 2014:
I started the project in the summer of 2010 and went as far as the dam at Goodyear lake in Colliersville NY. I had planned to do much more during the summer of 2011. But, my wife's breast cancer began to take a serious toll on her health and I spent the summer being her primary caregiver. Sadly, she passed away on Sept. 3rd 2011. We were married for 35 years and knew each other for 5 years before. As one can imagine this was a devastating blow and I thought that perhaps I would not continue the project at all. My wife, Mary Ann was the one who urged me to take on the project when i first mentioned it to her. She knew me well enough to know that I needed to do something "outdoorsy" and although in the summer of 2010 she was already too weak to join me on the river, she supported my effort by dropping me off and picking me up along the way.
During the summer of 2012 I paddled 2 sections with the help of a friend (Colliersville to Sidney, about 20 miles; Sidney to Ouaquaga about 24 miles), and another section on my own (Ouaquaga to Oakland, PA, about 15 miles) and by the end of the summer of 2012 I completed about 135 miles of the river (from Cooperstown NY to Oakland PA). I had a very pleasant experience when I did the section between Ouaquaga to Oakland. I had to figure out a way to get get to my car after paddling. I would have to either leave the car at the entry point and find a way back at the end of the day. Or, leave my kayak at the entry point, drive down to where I would exit and leave the car there. but of course I would have to find a way to get back to my kayak. I decided to leave the kayak at the entry point and I drove down to Oakland PA (about 16 miles). I walked into the Main St. Cafe, ordered breakfast and I asked the waitress if there was a taxi service that I could call. She told me that the nearest taxi service is in Binghamton NY; pretty far away. I then told her that I needed a ride to Ouaquaga and was willing to pay someone to drive me there. A middle aged man at the end of the bar heard the conversation and said "I'll take you". His name is Kevin Seltzer and he is the owner of the cafe. He asked me to follow him to where I could leave my car and then drove me to my kayak. I offered to pay him, but he refused it. That winter, on my way to my brother's cabin in PA I went out of my way to stop at the Main St. Cafe. I had breakfast and asked if Kevin was there. He wasn't. I left a bottle of Scotch for him. A coworker from Scotland gave it to me and I had it for several years. I hope Kevin and his friends enjoyed it. I hope to stop by again to say hello sometime this year.

During the summer of 2013 I paddled alone. from Oakland PA to Halstead, 8 miles; and from Halstead to the Sandy beach boat ramp just above Binghampton Ny about 16 miles. I did the sections over a two day period. The first day from Oakland to Halstead I found someone willing to follow me from Oakland to Halstead (where i left my car) and drive me back to Oakland where I had left my kayak. I gave him $50. He thought it was too much, but I insisted. He was very helpful by showing me a good entry point (not an easy task as the banks along the river are very steep in this area). The following day I left my car at the Sandy Beach fishing area, and called a taxi to take me to my kayak at Halstead. The charge was $36.
So far this summer (2014) I paddled a 17 mile section from Binghampton NY to Apalachin NY, just on the PA/NY border. By the way, the river crosses from NY to PA above Oakland PA, but then it turns sharply north (Big Bend) and crosses back into NY. Then turns south again and reenters PA just south of Apalachin. I was joined by my friend Betsy. We drove to Binghampton together and then rented a car at the airport and established a shuttle. in retrospect it would have been cheaper and quicker if we had just called a taxi.
I am not sure how much of the river I have done so far. I will have to add it up, but I think it is about 150 miles.
I have been very lazy in updating the website. I have to update the site so as to add the following sections: Ouaquaga to Oakland, PA; Oakland to Binghamton; binghampton to Apalachin. I hope to do so very soon.

ORIGINAL(Written summer of 2010):
The Susquehanna River is a ribbon of green that stretches for 444miles thru some of the most densely populated area of the east coast. It is the longest river on the east coast, and the longest non-commercial river in the US.
Its headwaters begin on Lake Otsego in Cooperstown NY (home of the National Baseball Hall of fame). In addition to the many miles of natural beauty, the river flows thru some of the most scenic farm land of NY state, and several small NY cities, like Binghamton, before crossing into Pennsylvania where it continues thru much of the same environment; forest, farms, small towns, and a few mid-sized cities ( Wilkes Barre, Harrisburg and a few others) It then enters Maryland and finally empties into the Atlantic Ocean in the Chesapeake Bay.
Having grown up in Pennsylvania, as a young man I canoed on the Susquehanna River on several occasions and always wondered what laid beyond the next bend in the river, and I promised to myself that someday I would canoe the whole length.
To me, the Susquehanna River is the antithesis of a modern interstate highway. The highway brings civilization thru wilderness by connecting cities and towns, while the river brings an uninterrupted slice of nature thru its whole length. I've had occasion to cross over the Susquehanna River in some of the most urban areas such as Harrisburg, PA, and in Maryland. I sneak a peek as I speed over the bridges, and I see along either side of the river a ribbon of trees that follows the contour of the river. And I'm always surprised that such scenery can be seen in such crowded areas.
There are actually two beginnings to the Susquehanna river. I mentioned the headwaters at Cooperstown NY. This is considered the beginning of the North Branch. The other branch is known as the West Branch and it's very beginning is not completely clear. Some say it's in Bakerton, PA others say it's in Carrollstown, PA.
The two branches meet up in Northumberland PA and continue together to the Chesapeake bay.
I start my trip at the headwaters of the North Branch In Cooperstown, NY