Length of this section: 24.5 miles
Altitude drop over this section: 52 feet
History of the area: See the bottom of this page.
This section is about 24.5 miles. My friend Jessie accompanied me on this section and we set up a car shuttle. We left one car at the Ouaquaga fishing access. But before doing that we checked out the bridge at Windsor (5 miles down stream from Ouaquaga) to see if there was easy access to the river. We made very good time on the previous trip and we thought that we should have no problem paddling the extra 5 miles. Fortunately we did not find any easy access in Windsor and decided to stay with the original plan to paddle the 25 miles to Ouaquaga. I'm very glad that we did not find an easy access in Windsor because the 25 miles proved to be very slow and grueling. If we had to go an additional 5 miles to Windsor we would have arrived after dark. This was a good "don't bite off more than you can chew" lesson.
We paddled this section on July 1st. By then drought conditions had reduced the current considerably, and making matter worse we had a stiff headwind the whole day. During the flat water stretches the wind would actually push us back up-stream if we stopped paddling. In addition, the water level was so low that at times we would get stuck on the many gravel bars along the way.
Milestones along the way:
1) Village of Bainbridge 4 miles. Reached in 1 hour and 34 minutes
2) Bridge and fishing access area in Afton: 10 miles from Sidney, 6 miles from Bainbridge. Reached in 3 hours and 28 minutes (from Sidney)
3) Public boat ramp and bridge at Nineveh: 15.5 miles from Sidney, 5.5 miles from Afton. Reached in 5 hours and 45 minutes (from Sindey)
4) The bridge at Harpursville: 17.7 miles from Sidney, 2 miles from Nineveh. Reached in 6 hours and 3 minutes (from Sidney
5) The bridge and fishing access at Ouaquaga, NY: 24.5 miles from Sidney, 7 miles from Harpursville.
Total paddling time from Sidney to Ouaquaga: about 8 hours and 30 minutes. This time includes a half hour lunch break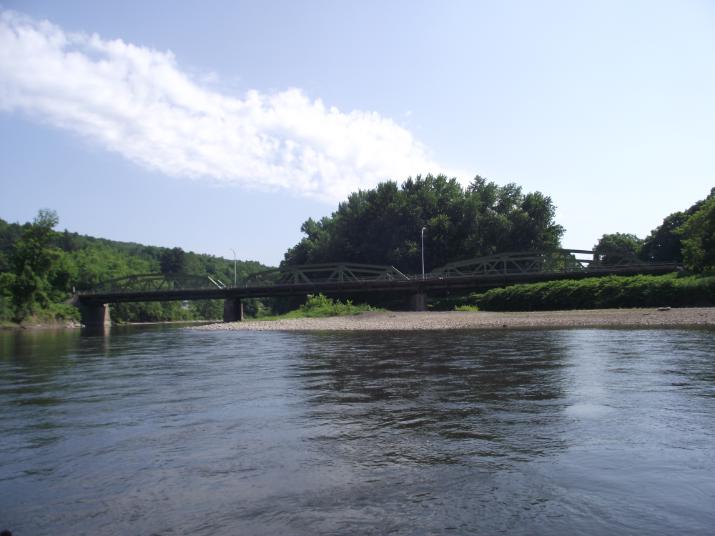 The bridge at Sidney, NY. this photo was taken from downstream looking back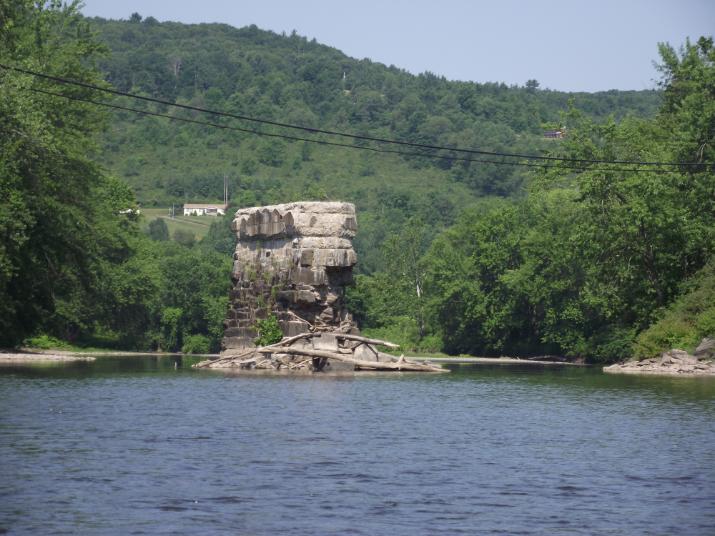 Column that once supported a bridge. reached this point 6 minutes after leaving Sidney.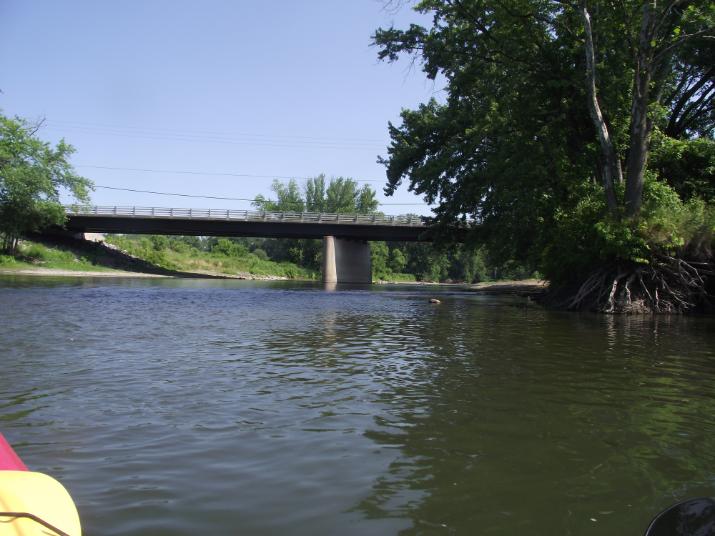 First bridge after Sidney. Reached 11 minutes from Sidney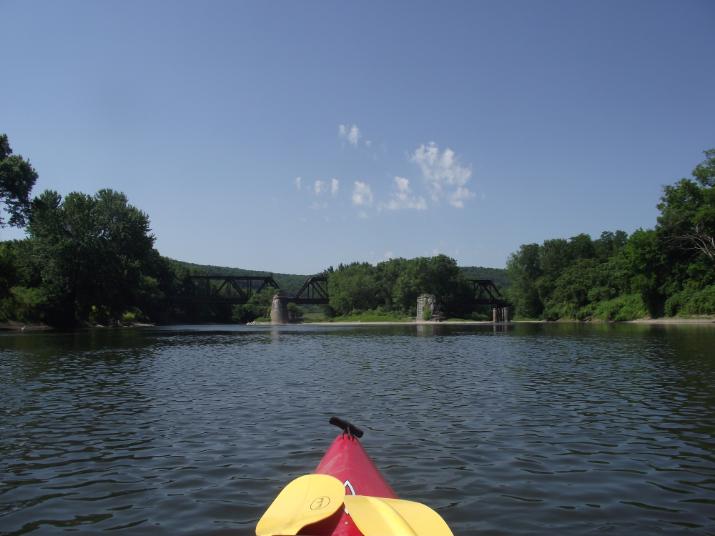 Railroad bridge; Reached 35 minutes after leaving Sidney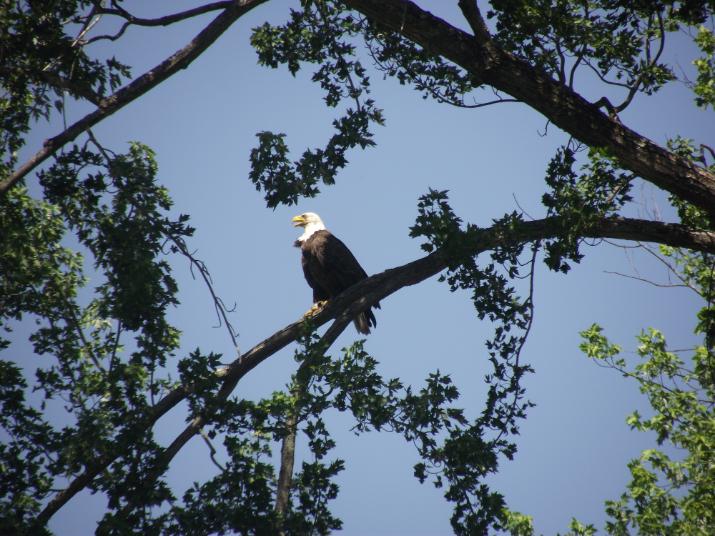 Eagle perched on a branch above the river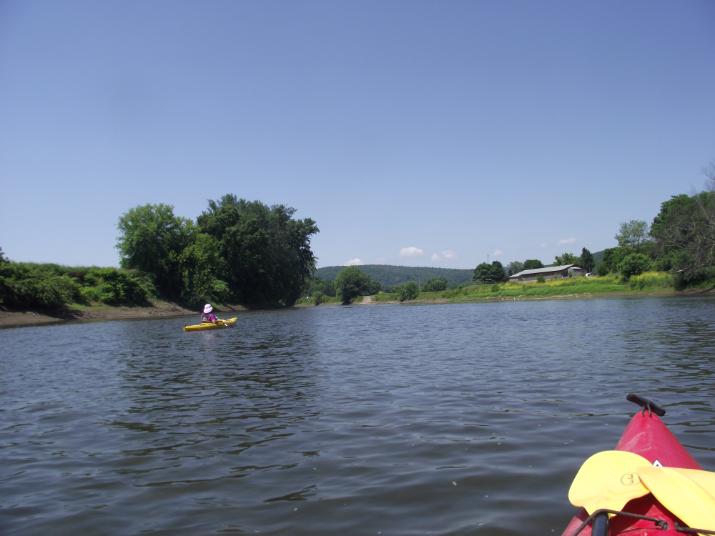 Approaching Bainbridge. The building is part of some camping establishment. I could see a few trucks with horse trailers and I presume it is a place where people camp and ride their horses on local trails. Reached about 1 hour and 5 minutes from Sidney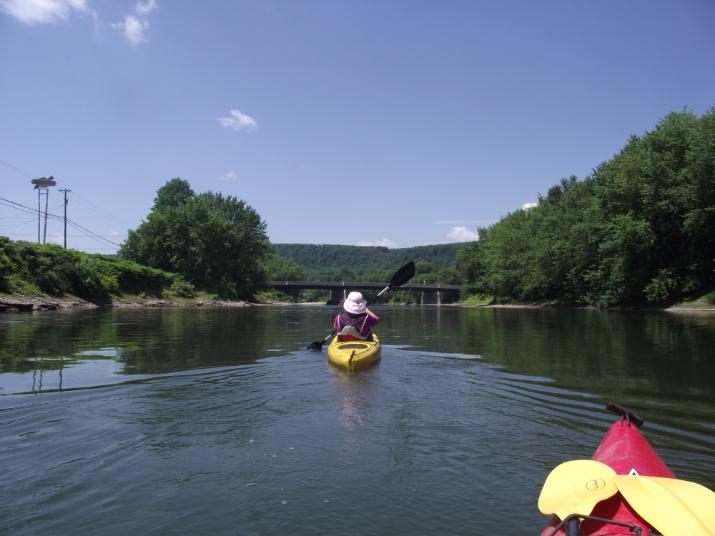 Bridge at Bainbridge. Reached 1 hour and 34 minutes from Sidney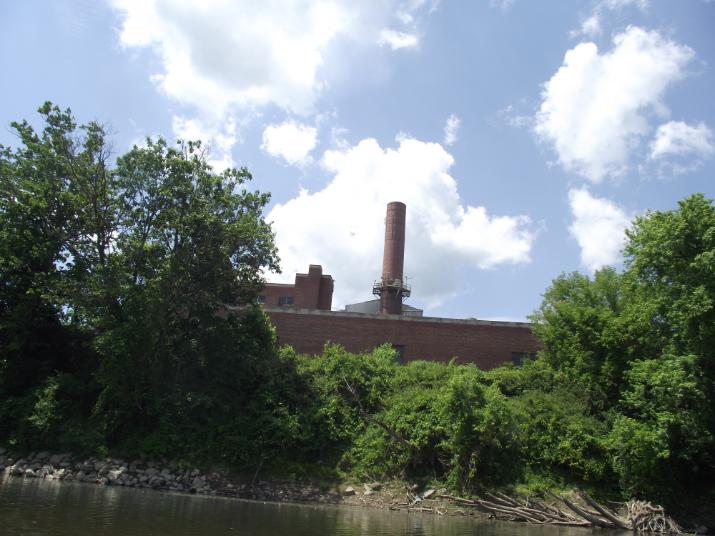 Not sure what this building is. But we reached it 2 hours after leaving Sidney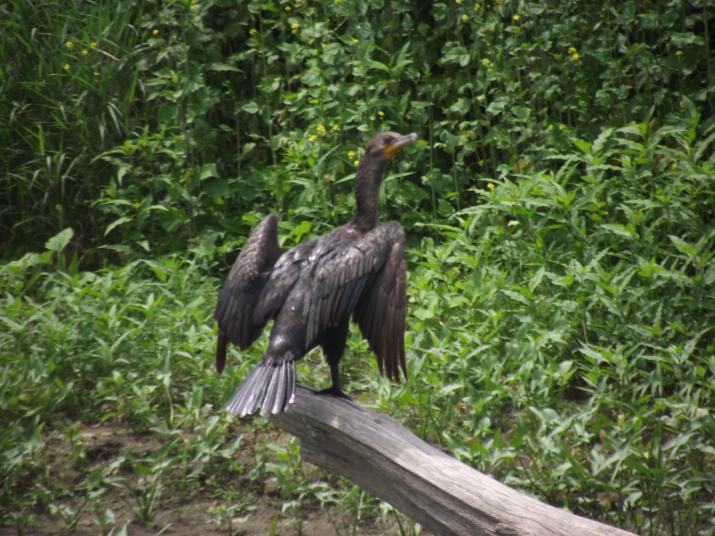 A Cormorant drying it's wings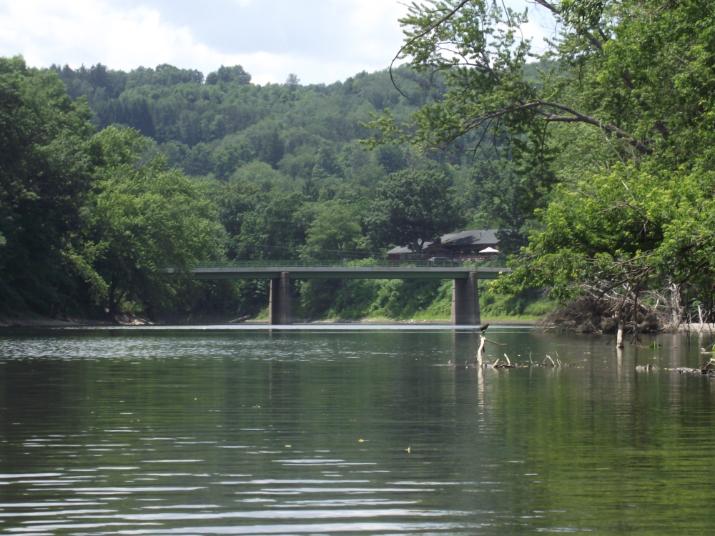 The Bridge at Afton, NY. 3 hours and 25 minutes from Sidney. 10 miles from Sidney, 6 miles from Bainbridge.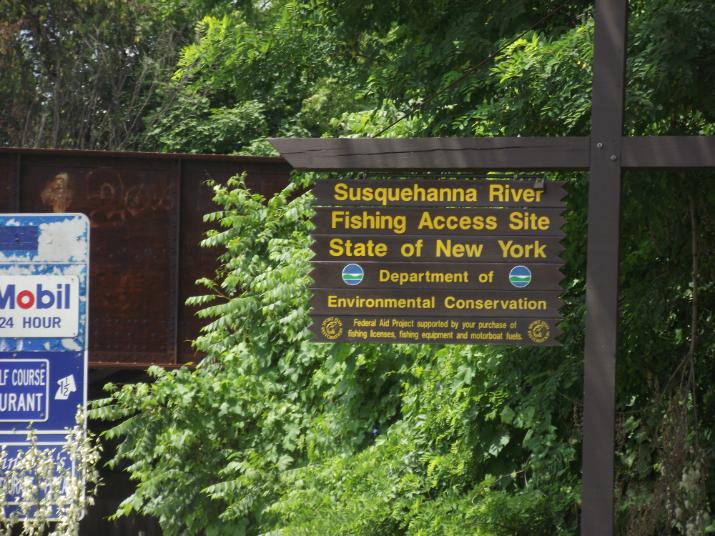 The Afton fishing access is located at the bridge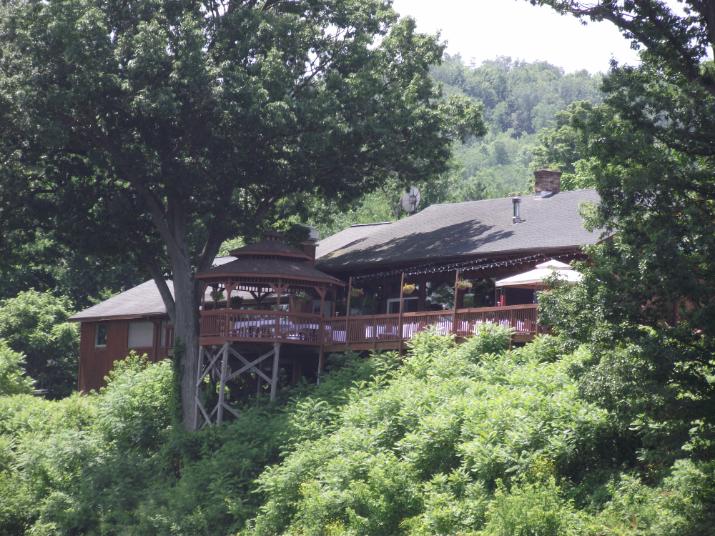 The River Club restaurant is also located at the bridge. Looks like a very nice place to have lunch.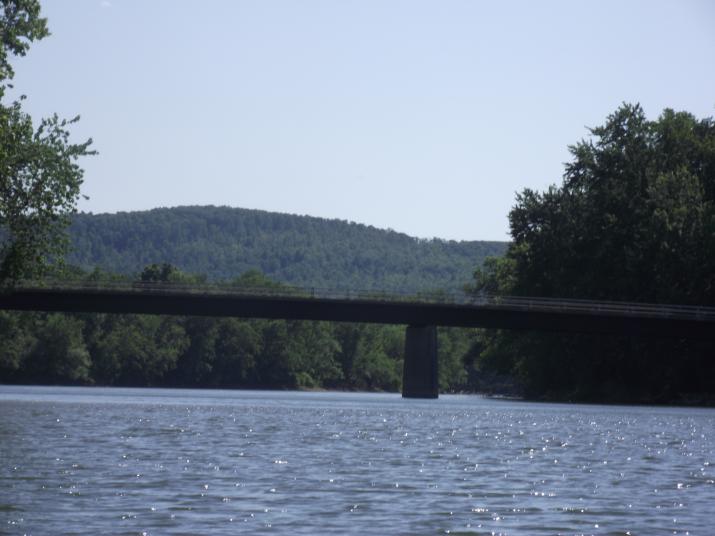 The bridge at Nineveh, NY. There is a lso a boat ramp and parking on the left bank. Reached 5 hours and 15 minutes from Sidney. 15.5 miles from Sidney, 5.5 miles from Afton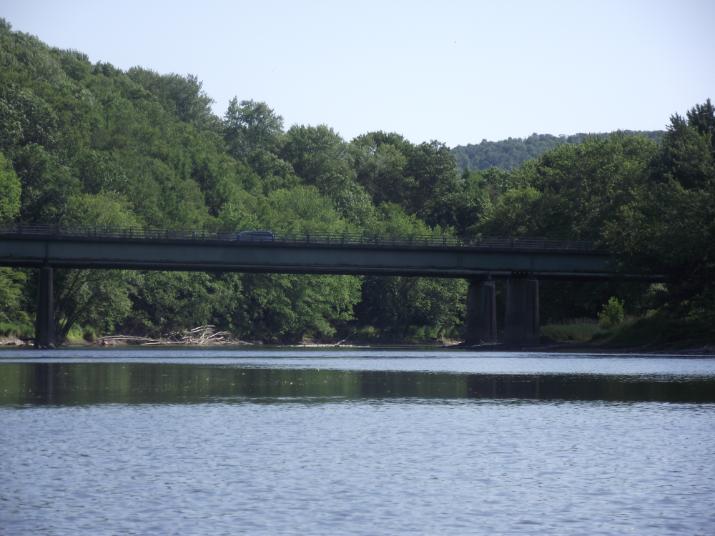 Bridge at Harpursville, NY. Only 2 miles from Nineveh. Not a good place to stop. Does not appear to be any parking in the area.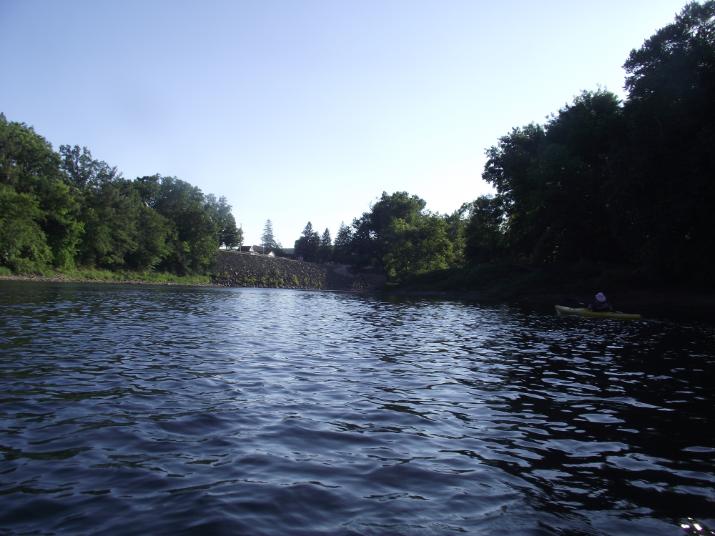 Finally! approaching the bridge at Ouaquaga, NY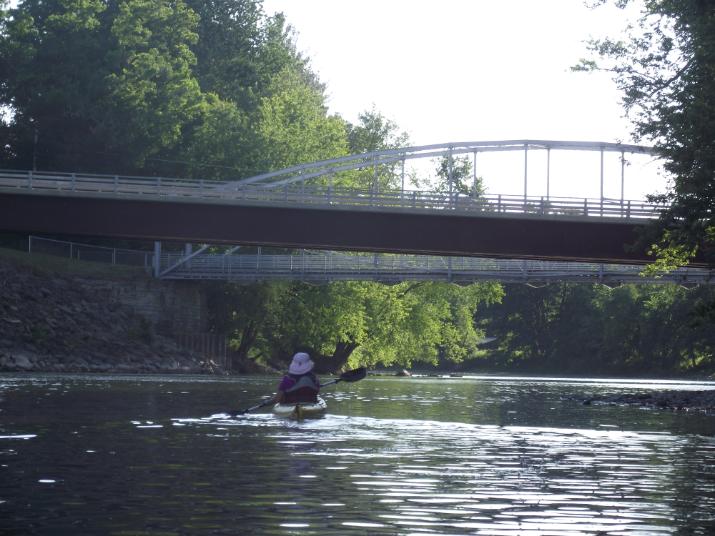 Bridges at Ouaquaga, NY. note that there are two bridges. one is a pedestrian bridge. Reached 8 hours and 30 minutes after leaving Sidney. Total miles from Sidney is 24.5. This was a difficult day due to slow current, strong headwinds and hitting bottom at several spots.
NEXT: Ouaquaga NY to Oakland, PA
HISTORY OF THE AREA:
The Anti-rent wars of 1843 and 1847: To better explain what these events were about I want to first provide some historical background. In the 1600's the Dutch granted large tracts of land to certain people. The title of Patroon was given to these people and in exchange for this gift of land they were to develop their holdings into commercial enterprises. There were several conditions such as settling into the tract 50 individuals within 4 years, or 50 families within 5 years. And the goods produced (Agricultural products, timber, pelts) would be sold to the Dutch companies.
The patroons were given great powers over the people in their domain (these domains were known as wycks) including the power to make and enforce laws and the power to approve or disapprove marriages. It is difficult for us today to appreciate the importance of the marriage power. But, at a time when to be born a bastard was to be forever debased as an inferior member of the community who would also lack certain rights (such as inheritance) this was a powerful way to keep people in line (It is for this reason that the catholic church insisted on retaining this power when negotiating a treaty with the Italian government in the 1860's and then again in the 1920's. But this has nothing to do with our story. I mention it only to make the point that this was a powerful right in times past).
The people who lived in the wycks plied their trades and shared with the patroon very much as tenants farmers. During times of plenty one can imagine that all were happy with the arrangement, but in times of shortages we know that there was friction between patroons and the people. By the time of the American revolution several generations had been operating under this system and when the revolution was over the people of the wycks demanded changes. The new American government took away the powers of the patroons but they continued to retain ownership of the land. Fast forward to the 1840's and we have a system where the people working the land work and reap the rewards, but they don't actually own it. By that time some patroons sold some of their holdings to the people, but others either didn't try to buy the land or were not given the opportunity to buy it. But that was not a problem because the owners no longer demanded a share of the production. Still, they did have ownership of the land and if, say a farmer sold his lease to another person the patroon demanded and often got a quarter share of the sale price of the lease.
There was always tension under this system. The farmers felt that they had paid for the land many times over the several generations, and the owners felt that the land had been in their families for generations and they had every right to retain ownership. And then in 1839 an event happened that brought the simmer to a boil. Stephen Van Rensselaer died! He was a descendant of the first patroon of Renselaerwyck. His will instructed his heirs to collect outstanding rents and quarter sale payments to apply to the estate debts. The tenants could not pay and they were not granted favorable payment schedules so they revolted leading to the first Anti-rent war.
The Anti-renters had a mass meeting at the top of the Helderberg mountains in Berne NY and issued a declaration of independence. Albany County sheriff Michael Artcher sent a 500 man posse against the anti-renters who repulsed them. Then governor William Steward threaten to send 700 militia men against the rebels and he obtained their surrender. But, the insurrection didn't end completely. Instead it went into underground and continued to resist tax collection and law enforcement.
Then (and this is when we connect these events to this area) in 1844 an association was formed in to prevent the collection of rent in what is now Delaware county. The area from the west branch of the Delaware river to a line one mile from the Susquehanna was essentially a large patroonship owned by several entities who had received patents in 1707 and redefined in later years. The association worked to prevent Sheriff sales of property for non payment of rent (pretty much the same as the foreclosures of today). They would dress as Indians (they were referred to a "Calico Indians" ) and appear armed at the sales to intimidate potential bidders. At one such event in the town of Andes in 1845 176 men showed up to stop a sale and a fight ensued with the sheriff and his men, and one of the sheriff deputies was killed. The governor sent a militia of 300 men (many of them from towns along the Susquehanna: Unadilla, Sydney and others) and the rebels disbanded. 90 were indicted for insurrection. Some went to prison and 2 were sentenced to death. The death sentences were commuted to life imprisonment by governor Wright and later fully pardoned by governor Young.
Although the Anti-renters did not succeed in obtaining straight-out ownership of the land, they did gain sympathy and slowly all the land in question was conveyed in fee to the leasees finally ending a feudal like system of land ownership.