Lenght of this section: 15 miles
altitude drop over this section: 40 feet
HISTORY OF THE AREA: The Susquehanna runs from north to south for almost its entire length. In this section the river crosses the border between new York and Pennsylvania just above Oakland PA. And then a very strange thing happens. The river makes a complete U turn and heads back north to reenter NY state. The reason for this has been studied and the accepted explanation is that millions of years ago the southward flow was blocked by a glacial upheaval and forced west and then north. Eventually the southward flow is restored and the river reenters PA around Sayre PA. It then continues south where it finally reconnects with its original channel around Tunkhannock PA. There is a stream in that area called Tunkhannock creek, a tributary to the Susquehanna. The course of Tunkhannock creek is thought to flow in the original course of the ancient Susquehanna river.
Ouaquaga NY to Oakland PA:This section is about 15 miles and it is the first section that I did by myself without any logistical help. That means that I had to figure out how to get back to my car after paddling. I decided that it is better to have the car waiting down stream as opposed to leaving the car at the starting point and then have to figure out how to get back to it. That is the last thing you want to do when you are very tired and hurting from a day of paddling. I explained in detail in my Update of August 2014 (see Home page) how I did it, but I can briefly recount in this section as well:
I dropped off my kayak at the Ouaquaga NY river access and drove to Oakland PA (about 15 miles downriver)
The Ouaquaga NY river access site. I left my kayak here and drove to Oakland PA where I was able to leave my car and get a ride back to my kayak. I set out from this point at 9:19 am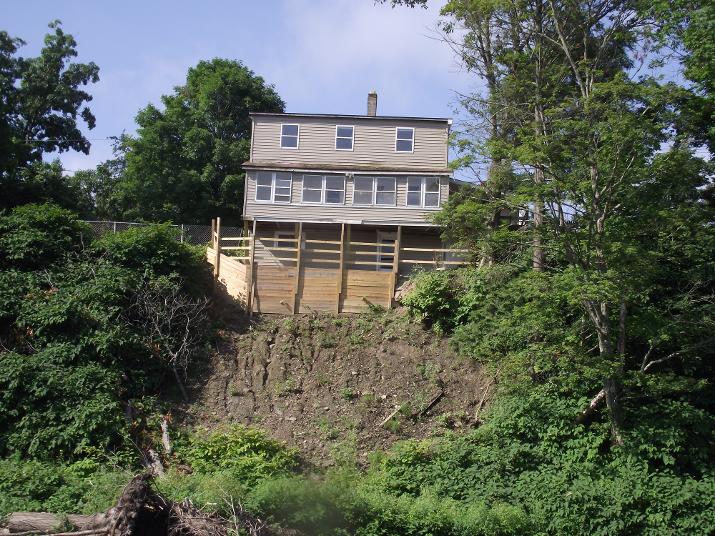 I reached this house a half hour later at 9:49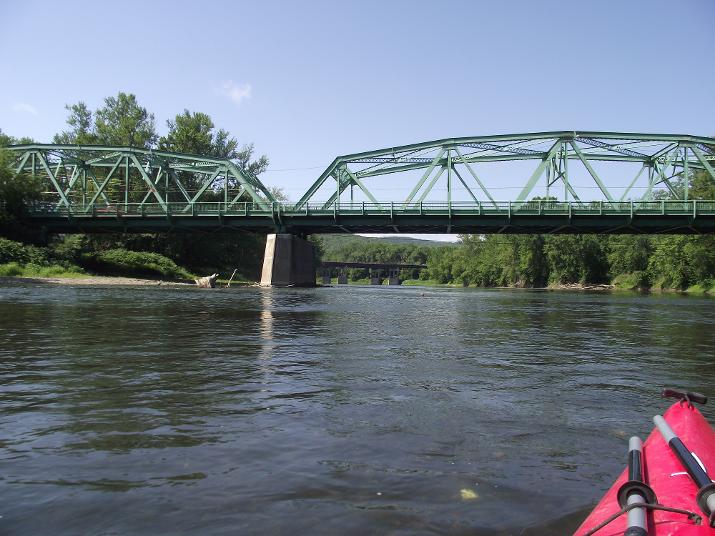 At 10:36 I reached the bridge at Windsor, NY. Looking downstream you can see another bridge (Route 17). After this bridge I paddled for about one hour thru a pretty wild area without seeing any sign of human activity.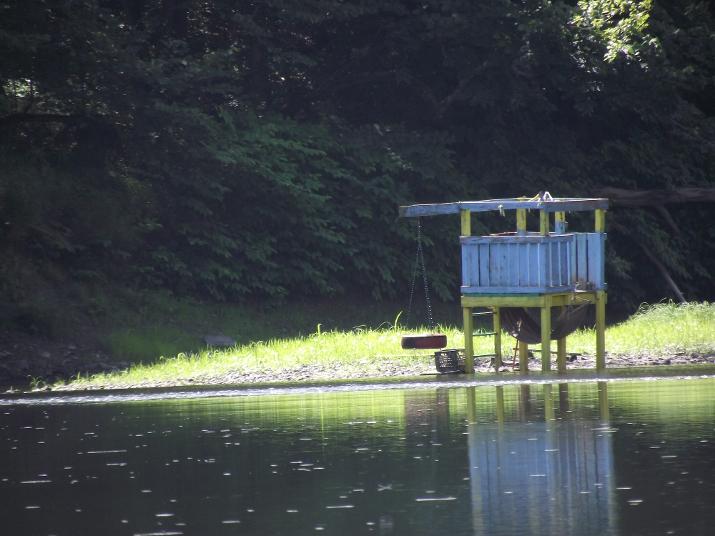 At 11:40 I came upon this structure on the river. The first sign of human activity since the bridge at Windsor.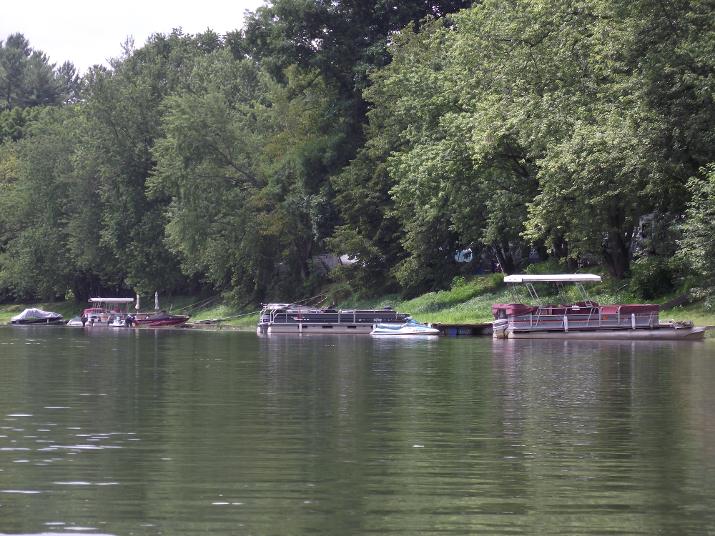 At 12:00 I reached an area of summer homes where many party barge type boats where docked. I paddled thru this area on a weekday and saw very little activity. But, I imagine that it gets very busy during summer weekends.
At 1:10 I pulled over to this boatramp to rest and eat my lunch. I checked my GPS app on my iPhone and saw that I was standing right at the NY/PA border. The Susquehanna enters PA at this point, but several miles downriver, at Halstead PA, it makes a u turn and heads north crossing the border back into NY at Kirkwood. The river continues in NY state for about another 40 miles until finally reentering into PA just below Sayre.
At 1:38 I reached the Oakland PA boat ramp and fishing area. This sign shows how many miles are left to reach the end of the river at the Chesapeake bay. 354.4 miles to go. Since the river is 444 miles it means that up to this point I have paddled 89.6 miles. This would have been a good place for me to have left my car as it is a very easy place to get out and load the kayak back on my car. But, I had left my car in Oakland so I kept going.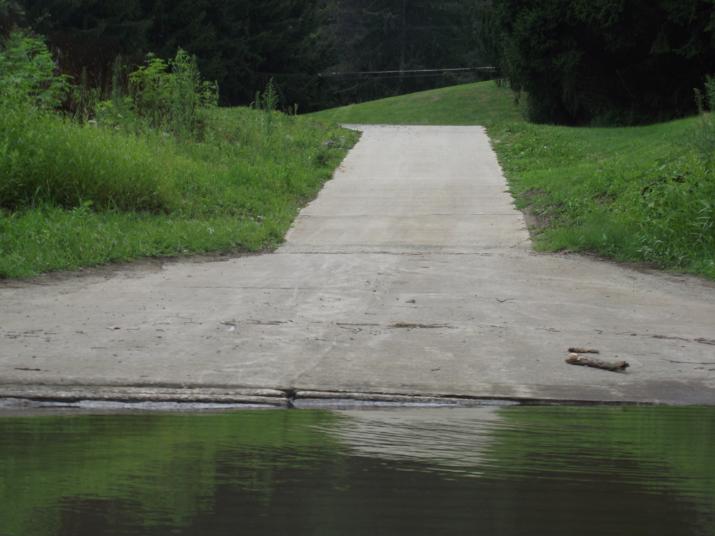 The boat ramp above Oakland. Although it is called the Oakland boat ramp, it is a considerable distance from the bridge at Oakland. It took me another hour of paddling to get to where I left my car (in a commercial area under the bridge).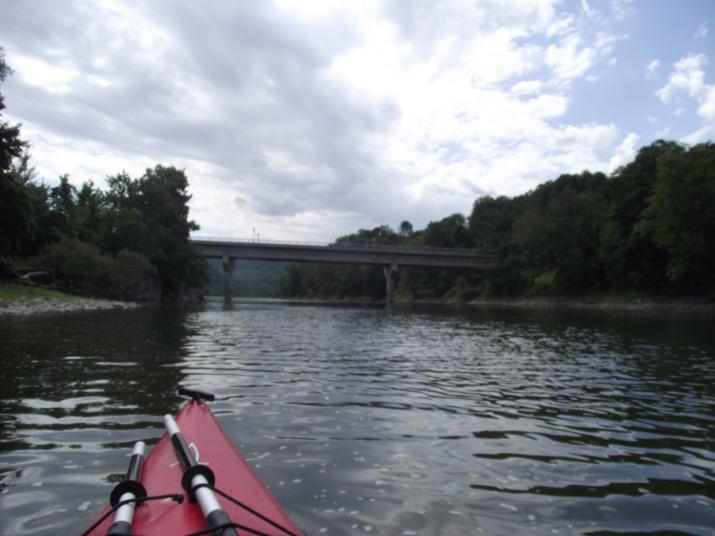 Approaching the bridge at Oakland PA. I took this picture at 2:42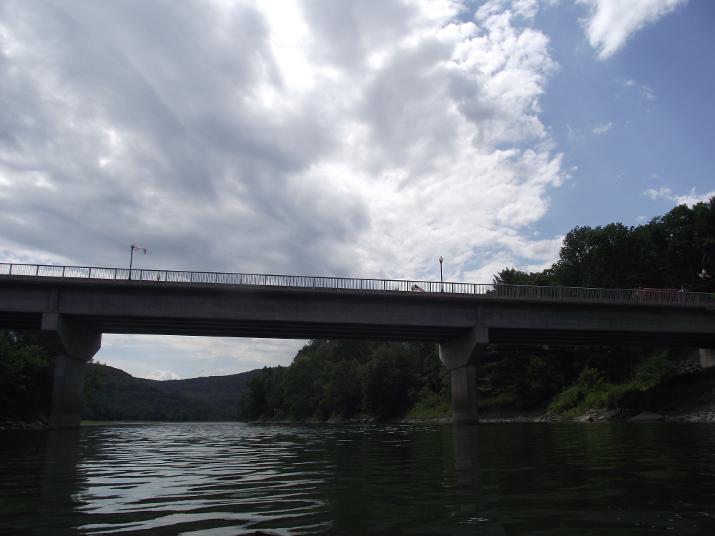 I got out of the river just on the other side of the bridge on the left hand side (At 2:45. This means it took me almost 5 and one half hours to paddle from Ouaquaga NY to Oakland PA). From there I had to climb and drag my kayak up a pretty steep bank to get to flat ground. Then I had to drag the kayak about the length of a football field to where I had left my car. I was pretty exhausted by the time I loaded up the kayak. I would not recommend this as an exit or entry point. I recommend the Oakland Boat ramp upriver.
Just past the bridge, maybe another two or three minutes of paddling is a formidable dam. I did not portage this dam. On my next trip I started on the downriver side of the dam. But, I observed some young men portaging a canoe. they went on the left side of the river and lifted the canoe up and over the dam. It looked fairly easy for two people. Maybe harder for one person, but it will help to use a rope. Next section: Oakland PA to Halstead PA.