Date of paddle: August 26, 2019
Distance: 22.6 miles
Time to paddle: 7 hours and 44 minutes. includes half hour stop for lunch and another 20 minutes to recover from incident at the Nescopec falls
Altitude drop: 40 feet
I drove to Bloomsburg PA from my home in Mass on Sunday August 25 and checked in to the Fairfield Inn in Bloomsburg. My last paddle took me up to Shickshinny (about 22 miles upstream from Bloomsburg). My goal for this trip was to finally complete the Northern branch by paddling the last 48 miles to Sunbury (about 23 miles south of Bloomsburg). This made Bloomsburg a logical place to stay as it is located midway from Shickshinny to Sunbury. I also chose Bloomsburg because it is a good sized town and I assumed that it would be fairly easy to get a cab or Uber to get me back to where I would leave my boat. I always prefer to paddle down to my car rather than to leave my car at the start. I find it much less stressful to not have to worry about how I'm going to get back to my car after a hard day of paddling. It's always a good feeling to see my car at the end, waiting for me; almost gives it a personality.
All of last year and at the beginning of this year I had a pretty easy time because my brother helped me on each paddle. He would either pick me up at the end of the day, or bring me to my starting point. But, now I am pretty far downriver from his property and I don't want to impose on him. So, when I checked in at the hotel I asked the desk clerk about area taxi companies and explained that I wanted to be taken to Shickshinny the following morning. He reached into a drawer and pulled out a business card for the only Uber driver in the area. I called the number on the card and Dave answered. I explained what I wanted to do and he told me he would be happy to do it. He made sure I had an Uber app and explained that for insurance purposes he cannot do it as a freelancer; that had been my suggestion.
The next morning I left my hotel and drove the approximately 22 miles upriver to Shickshiny and left my boat at the boat ramp. I am always a bit concerned about leaving my boat unattended, but I have never had any problems dong that and my confidence grows with each trip. I then drove to the Bloomsburg river access where I parked my car. David showed up about two minutes later and off we went; back to shickshinny.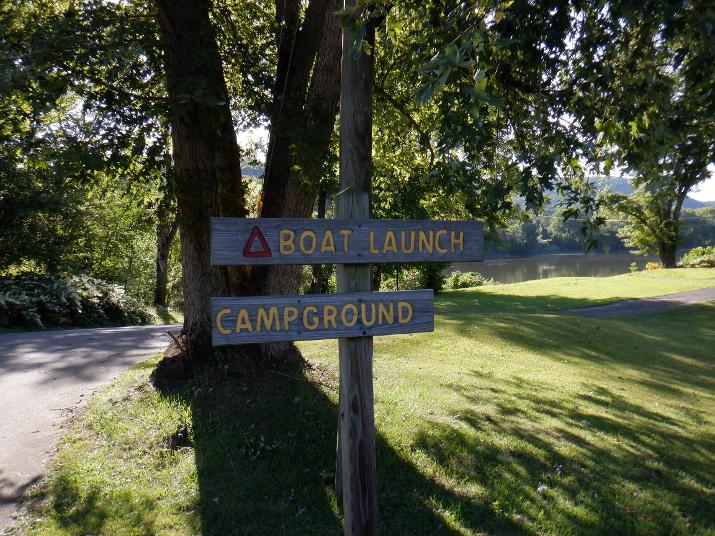 The Shickshinny river access. The road on the left leads to the boat ramp. This s a nice area. Good parking and there is also a port-a-potty which is much appreciated after a few cups of coffee.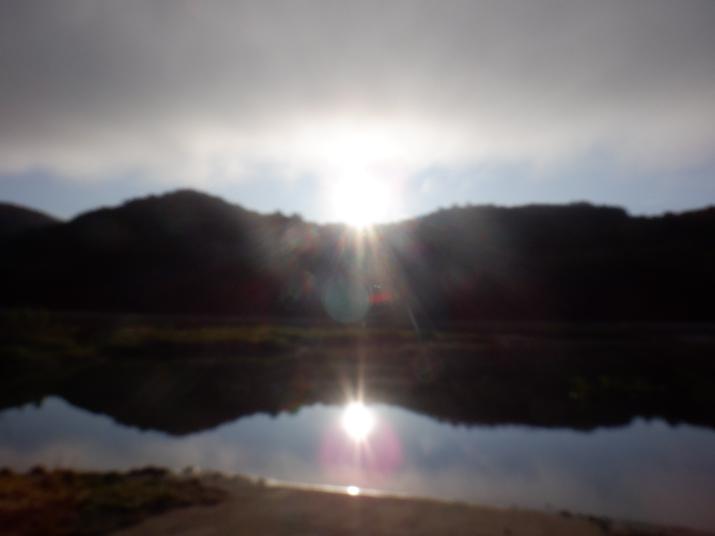 Sunrise across from the boat ramp. I took this photo at 7:24 when I arrived there to drop off the boat. As summer comes to a close the days get shorter and shorter. If this photo had been taken in late June or early July the sun would have been much higher in the sky. The short days of late summer are a concern to me when planning a long paddle. But I paid attention to the sunset the evening before. At 7:45 PM the sun was disappearing over the horizon, but there was still plenty of daylight. That meant that if I could get on the river round 9:00 AM I would have 11 hours of daylight to complete the 22 miles that I planned to paddle; plenty of time.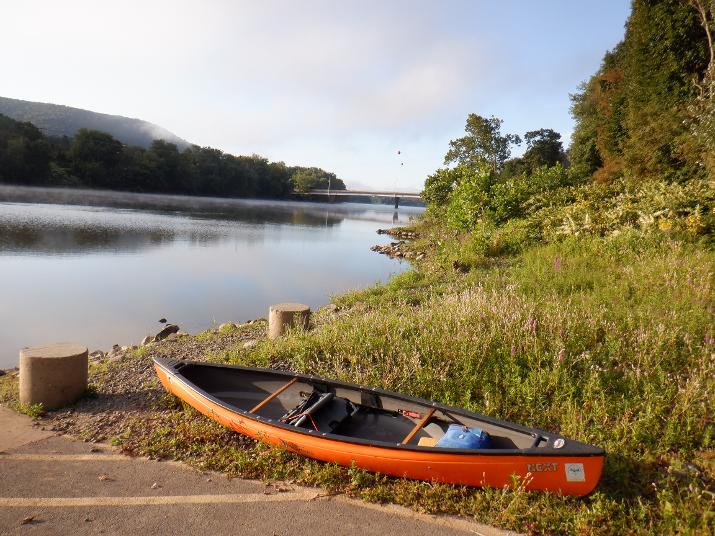 I set out from the Shickshinny river access at around 9: 15 AM. The Route 239 bridge is in the background of this photo, just a few paddle strokes away from the boat ramp.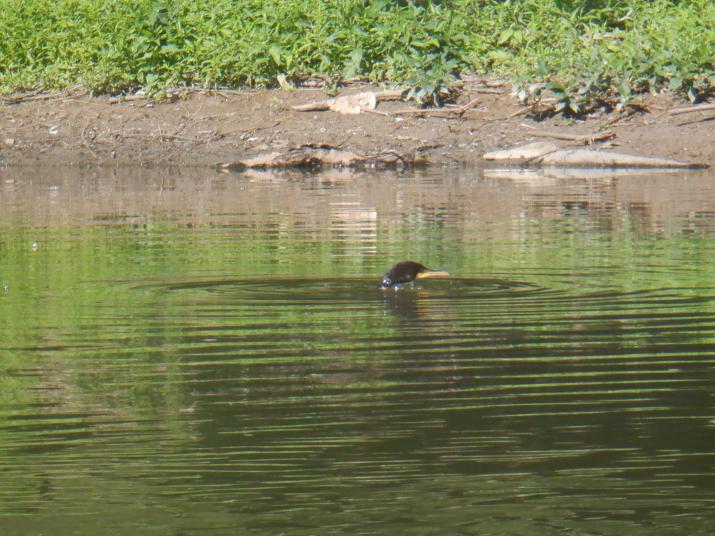 I was in the water only a few minutes when I noticed the head of a cormorant sticking out of the water. As I got closer I noticed that it was in some kind of distress moving around in a small circle. I got close to see if I could help and realized that something was holding it down. I am sure that it was near death from hypothermia as I could see that the feathers on its body where matted in clumps and could see its skin; similar to the way you can see your scalp when your hair is soaked.
I tried to place my paddle under its body and lift it up, but whatever was holding it down would not budge. I could not see what was holding it down, but I am guessing it was fishing line. After a few attempts I gave up. The current kept pulling me away and I was beginning to tire from the effort, and I thought too that I was just adding to its stress. I thought about killing it to get it out of its misery, but decided against it; "who knows, maybe in a few minutes someone in a fishing boat will come along and rescue it". But, I know a little bit about of how hope often lets you down and I'm sure that its death came soon after I left
The two cloud columns in the photo are from the cooling towers of the Susquehanna Steam Electric Station. Someone did an excellent marketing job when he or she came up with that name for a nuclear power generating station. The steam columns from the station dominate the area like twin man made volcanoes. I could see them from my hotel about 20 miles away in Bloomsburg, I could see them as I drove to Shickshinny to drop off my boat, and I could see them pretty much the whole time I was on the river that day.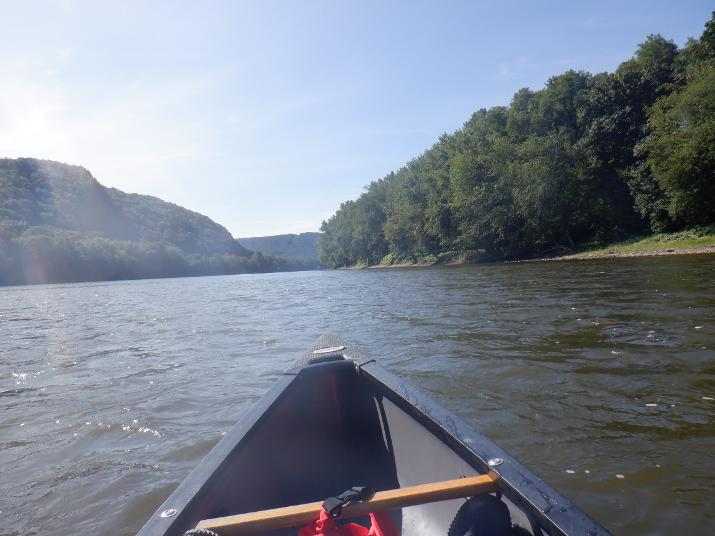 About one hour into the trip I ran into a set of small rapids that made for a little excitement. This far down there are very long stretches of still water. The river straightens out and you have to paddle for a long time before you can reach the next bend in the river. As a matter of fact I felt the monotony strongly enough to think that perhaps I should tell my readers that this section may be one to avoid if you don't have the luxury of time necessary to do the whole of the northern branch. But, I did come to appreciate the area by the end of the day.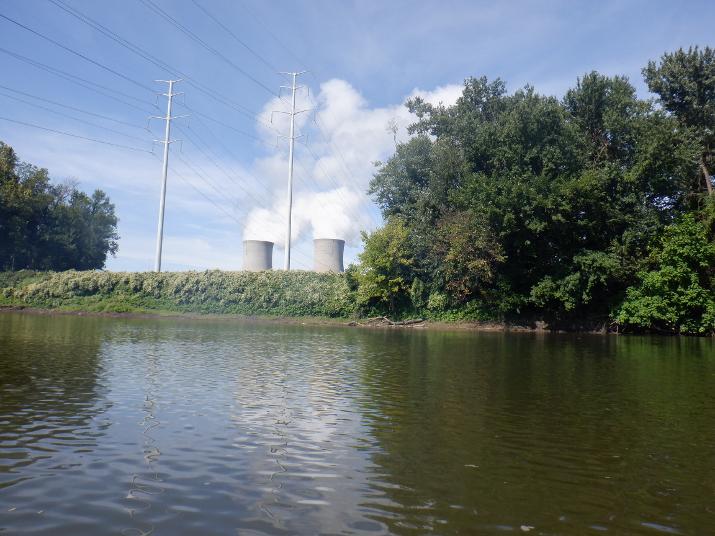 I reach the cooling towers of the nuclear power station a little more than one hour into the trip.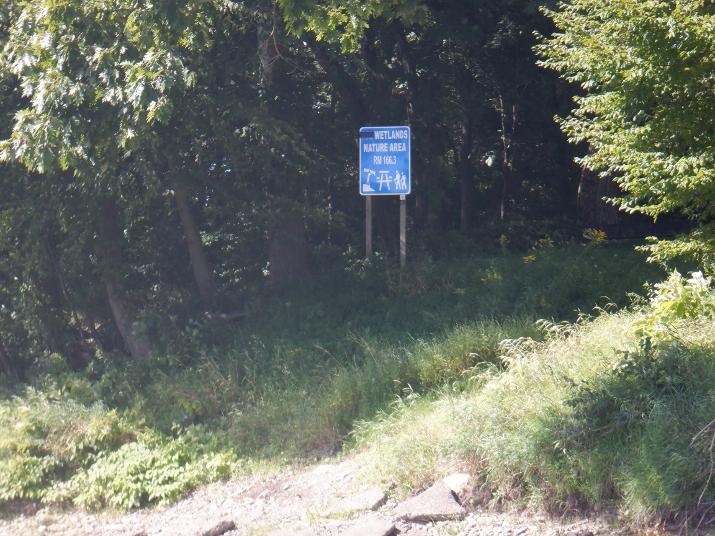 At 10:48, about 1.5 hours into the trip I reach the Wetlands Nature area. On a previous road trip I stopped here to check it out and I could not see an access to the river from the parking area. I walked around a bit and found a trail that eventually leads to this spot. It is a bit of a walk and may not be a good access if you have a heavy boat to carry.
There was a public information board at the parking lot and in addition to the standard information there was a sign that read something like: WARNING; If you hear an alarm lasting 3 minutes immediately leave the area.
The message did not say why the warning was there, but I am pretty sure it was because of the nuclear power plant . But, I am often accused of jumping to conclusions LOL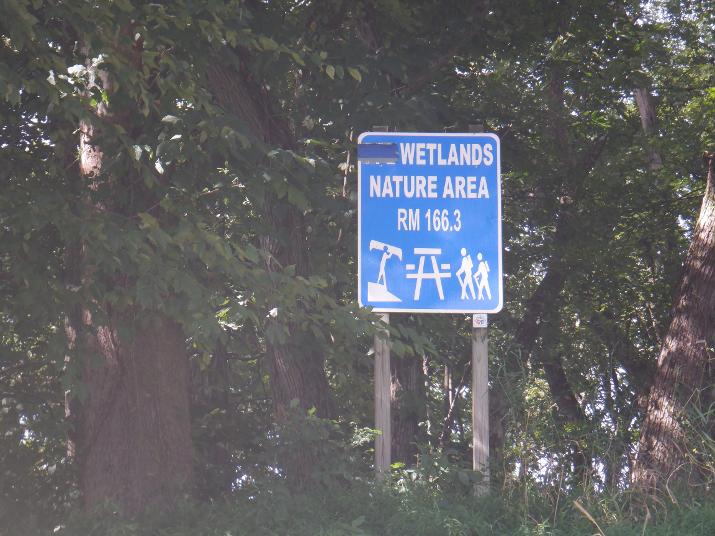 166.3 miles to the Chesapeake bay. This mean that I have paddled 277.7 miles of the Northern branch since I began the project. And 5.1 miles so far today. This is actually pretty good for 1.5 hours. Part of the reason I'm making good time is because I have been paddling pretty hard. I am concerned about the length of my goal for today (22.6 miles) and I am paddling faster than when I know I have plenty of time.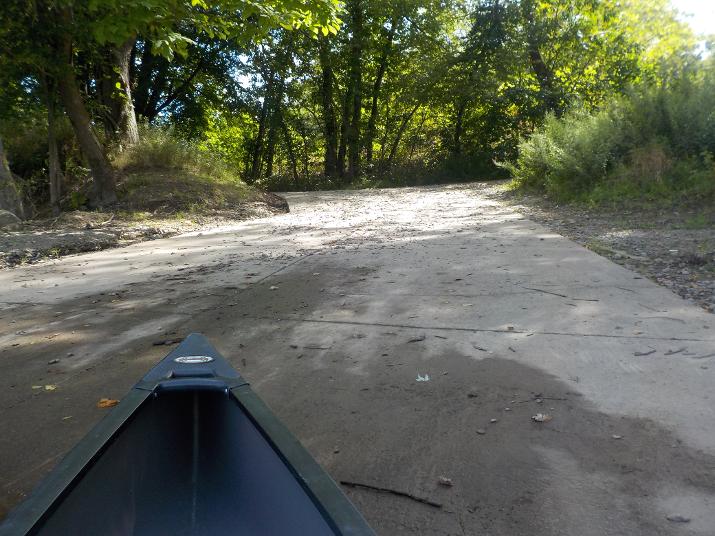 Just about 2 hours into the trip, on the left bank I spot this very nice concrete boat ramp. There was no sign indicating the location or mileage. I did not get out of the boat to explore, as I thought I would be able to find it later on the Susquehanna Greenway interactive map. But, the map does not show a river access at that spot. As a matter of fact, in this section all of the river access point appear on the right bank. I also checked Google Earth and I could not find anything corresponding to it. I'm guessing that because the ramp architecture is the same as the other public access points, it is probably a new one that does not show up on Google Earth and has not been added to the Greenway map. I'll do a bit of research later.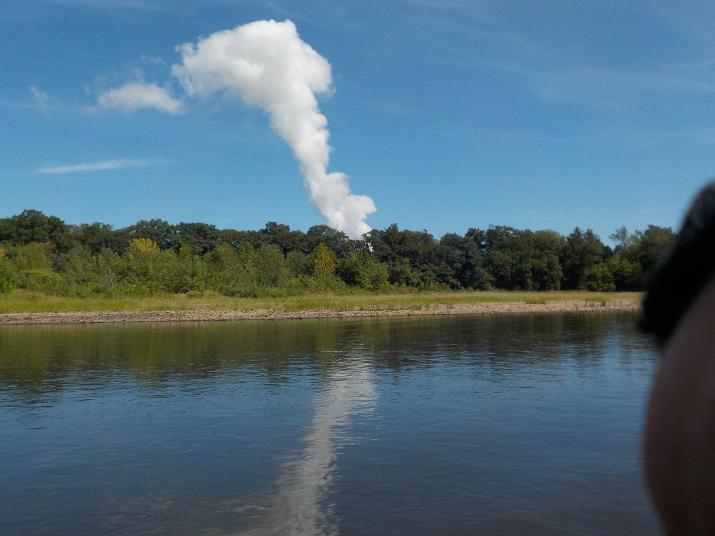 Looking back, the cooling towers vapor is still very much visible at 11:45; 2.5 hours into the trip.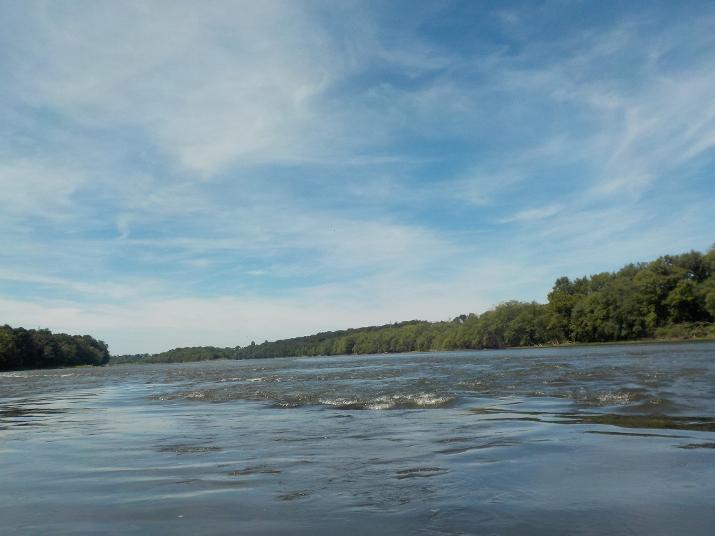 2 hours and 40 minutes into the trip I approach another set of rapids.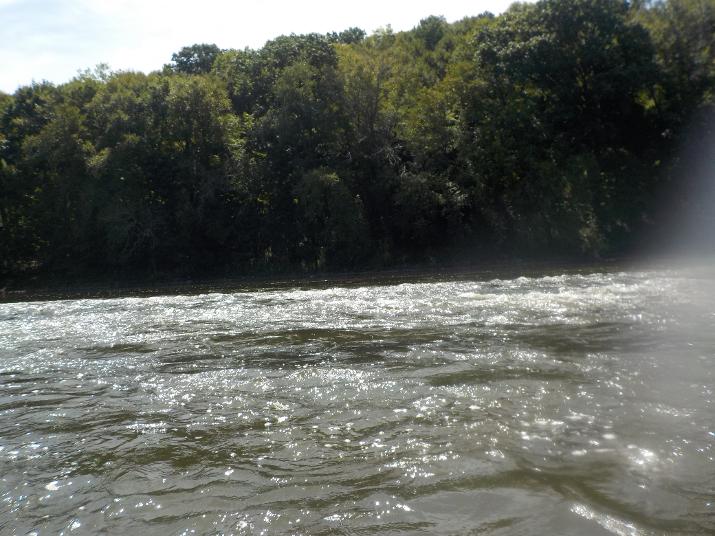 Same rapids. Nothing that my boat can't handle.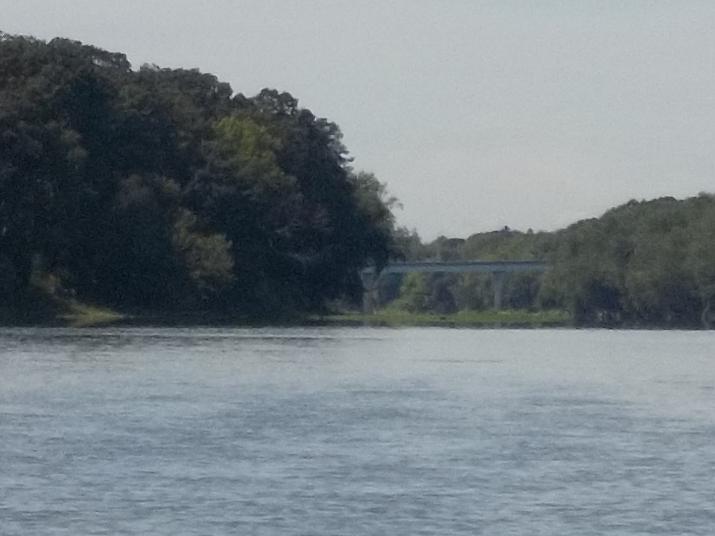 At 12:10, 2 hours and 50 minutes into the trip the Market St. bridge (also Rt 93) at Nescopec comes into view. This photo is misleading because I zoomed in. From this spot the bridge is still quite a ways away. You have to be really careful at this bridge. The Nescopec Falls are there, and it is where I had my worst mishap on the whole of the Northern branch. I'll write more of what happened and how to avoid the falls in this page.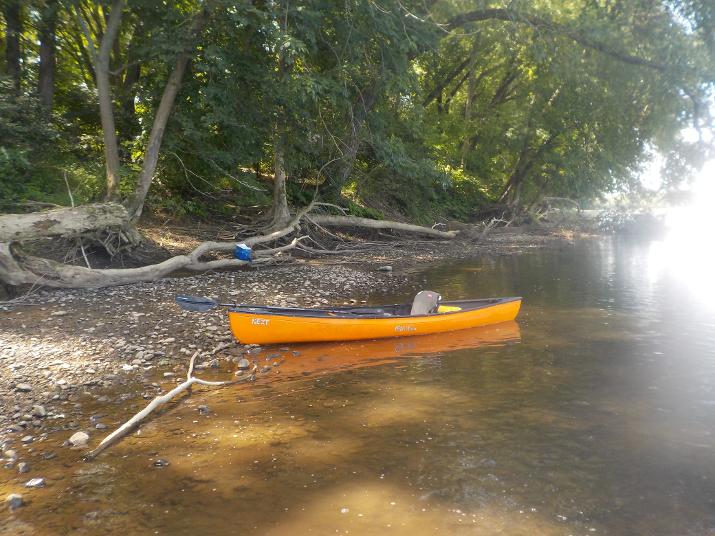 I did not have much of a breakfast that morning and I had been wanting to stop for lunch. I have written before that it is often difficult to find a good place to stop. Often the bank is very muddy, wet, sometimes too steep to make a safe exit, and no comfortable place to sit. This was one of those days and the best I could do is this log to sit on.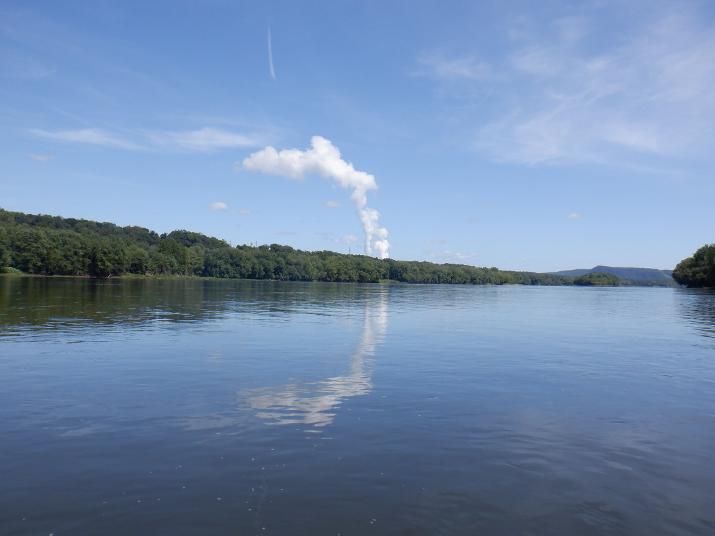 Back on the river. this photo is looking back up river.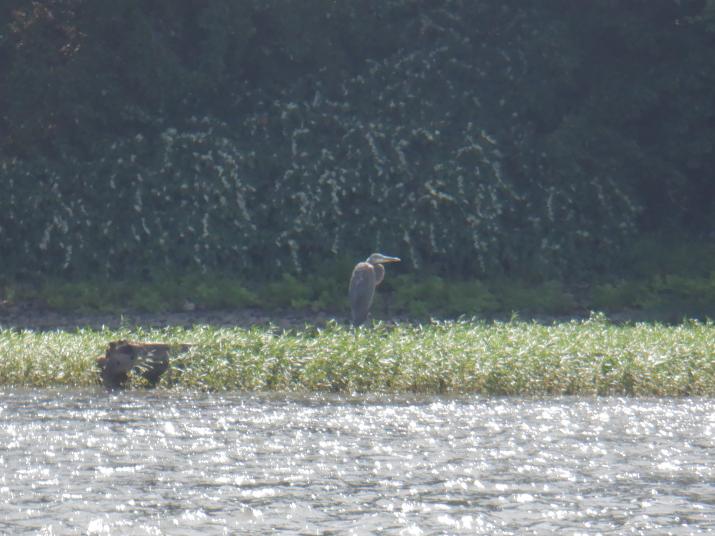 A Blue Heron. They have become very common since I first started my river project. At that time it was a rare sight, but now you can't paddle for 10 minutes without seeing one.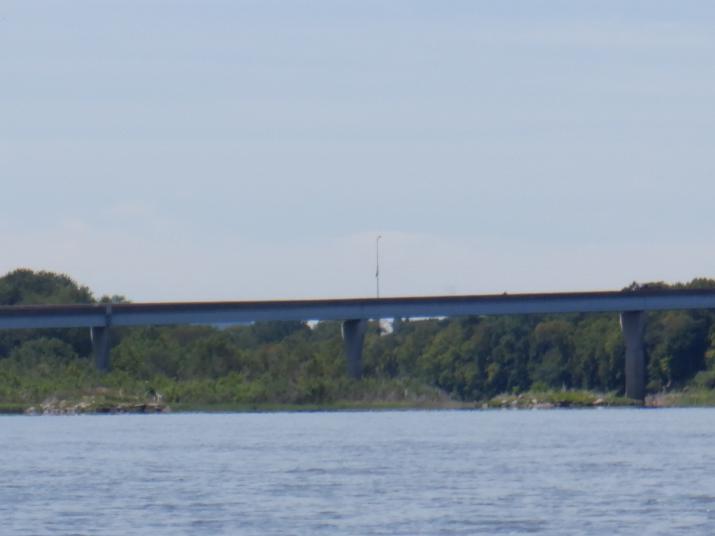 Getting closer to the Market St. bridge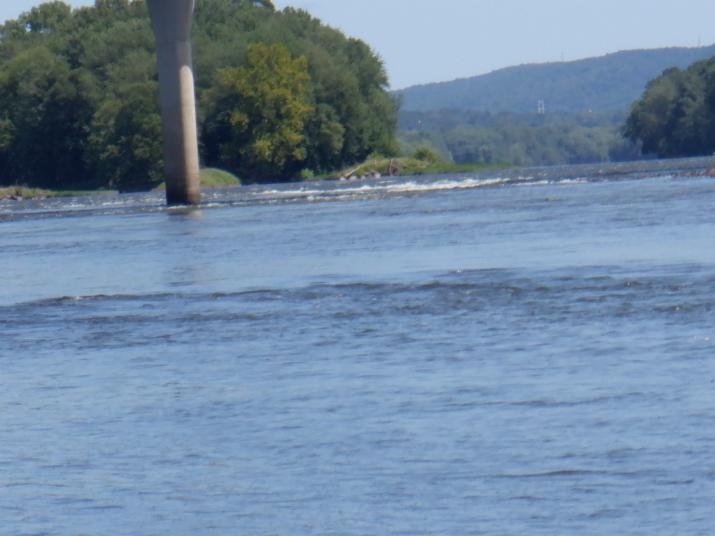 As I approached the bridge I could see the rapids up ahead, and because they make for more exciting videos I turned on the camera that I mount on my vest and headed straight for the worst part. As I got closer I realized I had made a big mistake! The approaching rapids were the biggest I had seen on the river. I noticed that I could avoid the worst part by going around to the left side and I paddled like crazy to go around them. I almost made it, but the current was so strong that it pulled me down over the rapids backwards. What it looked like to me is a waterfall about 4 feet tall and I was sure I would capsize. But, to my amazement the boat was still right side up when I hit the bottom and I could see the waterfall retreating behind me. But within a second or two I saw the front of the boat point up in the air and felt water flooding all around me. And, then the boat capsized and everything not tied down was being carried away by the current.
I don't know how I managed it, but I never let go of the paddle and I grabbed on to the overturned boat and down the river we went. I was hugging the boat with my left arm over the upturned hull and the right hand holding on to the paddle which was horizontal to the boat, pressed between my body and the boat. I tried to feel the river bottom with my feet so that I could push the boat to the bank, but it was too deep. I then used my legs to whip kick to the bank, but I did not feel like I was making much progress. Finally I could feel the river bottom and I started to push towards the bank, but the current was very fast and I could not get my feet planted well enough to get leverage. But slowly I got closer and closer to the bank until I could finally stop the boat against some rocks that jutted out into the river and made a small pool of calm water.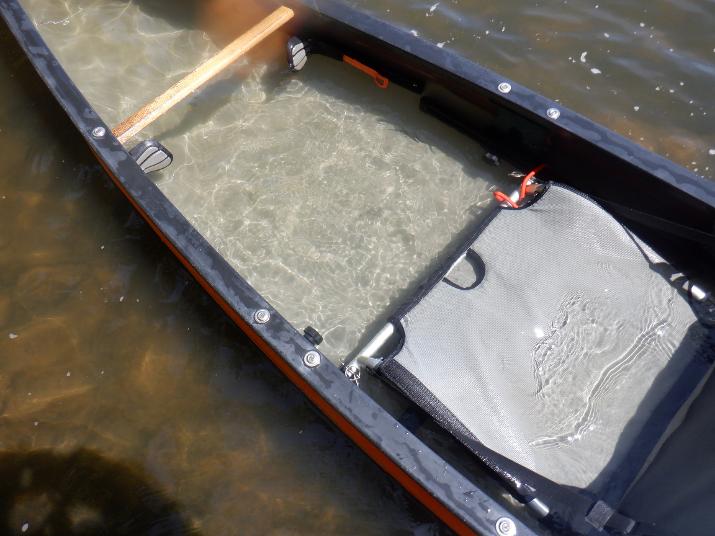 My flooded boat after I turned it right side up. Once I stopped the boat I flipped it over and to my surprise I found that the two halves of my spare paddle had not floated away. They and one of my two sponges had stayed trapped in the overturned boat. But, I learned a good lesson. From now on I will make sure to secure them to the boat. My two dry bags, the large one where I keep my spare clothing and shoes, and the small one for my electronics (phone chargers, flashlight, spare batteries, cables) had been secured to the boat and did not float away. I have a waterproof case for my cell phone that I hang around my neck, But, I had taken the cell phone and placed it in the small dry bag to charge it, and unfortunately I did not close the dry bag properly and water got inside. Enough to kill the phone.
Because I had turned on my camera on video I recorded the whole incident. The recording is about 7 minutes long. the first 2 minutes are of the approaching rapids and of the boat flipping over and me ending up in the water. The next four minutes are mostly under water, or barely above water as I struggle to push the boat to the river bank, and then about one minute of close up of my life jacket as the camera swings to and fro from my neck as I work to right the boat.
https://drive.google.com/open?id=1Im92O1TT4d9_AdW7WGH7Z0XQ8tjeq16K
The above link is a much shorter version of the video.