Lenght of this section: 16 miles
Altitude drop over this section: 25 feet
The day after paddling the Oakland to Hallstead section I paddled from Hallstead PA to the Sandy Beach fishing area (16 miles) just above the city of Binghamton NY. I left my kayak at the Hallstead fishing access point and drove my car to the Sandy Beach fishing area. On the way there I telephoned a taxi (no Uber at that time; June 27, 2013) and the driver was waiting for me when I got there. I was anxious to get back to my kayak because the Hallstead fishing area is in a very busy section of Hallstead and I worried if my kayak would still be there when I got back; it was.
Perhaps because I was anxious to get going I left the bag containing my food in the car and did not realize it until after a half hour of paddling. This is a big mistake! from that moment on all I could think about was food, and I kept looking along the banks to see if there is a place I could stop to buy some. Fortunately, I found two energy bars in one of my lifejacket pockets. The energy bars and a water bottle that I had in the kayak saved the day. Lesson for the day: make a checklist and go over it before leaving the car.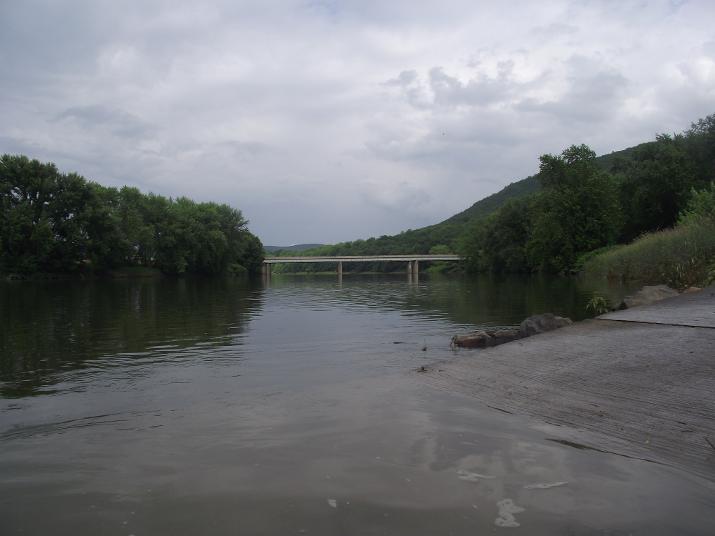 Left the Hallstead fishing access area at around 9:00 am. As I mentioned in the previous section. The Susquehanna enters PA, but at Hallstead it makes a U turn and flows north and back into NY state. This bridge and the fishing access area is located at almost exactly the middle of the U turn (Big Bend). I made very good time on this section, arriving at the Sandy Beach access (16 miles downstream) at 12:15. This means I averaged about 4 miles/hour. The river is fairly narrow on most of the section, constricting and speeding the flow of water.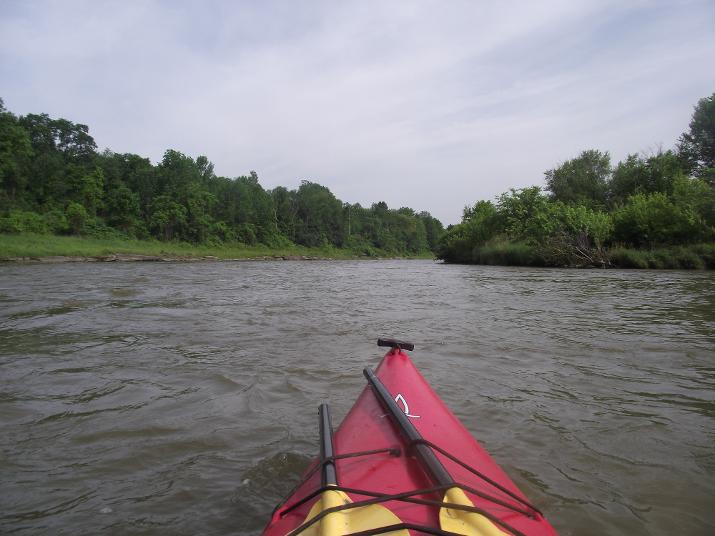 Narrow river made for fast water and a fun trip; spoiled by thoughts of my food left in the car.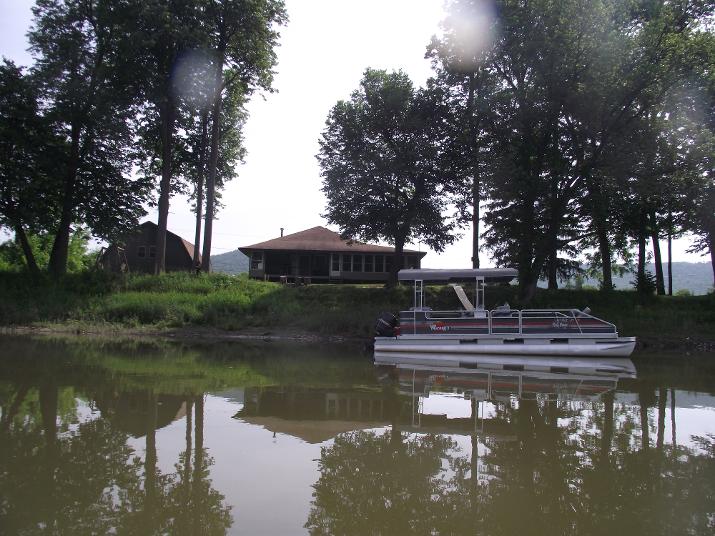 I reached this house at 9:54. A little less than one hour after leaving Hallstead. Here the water was deep and calm.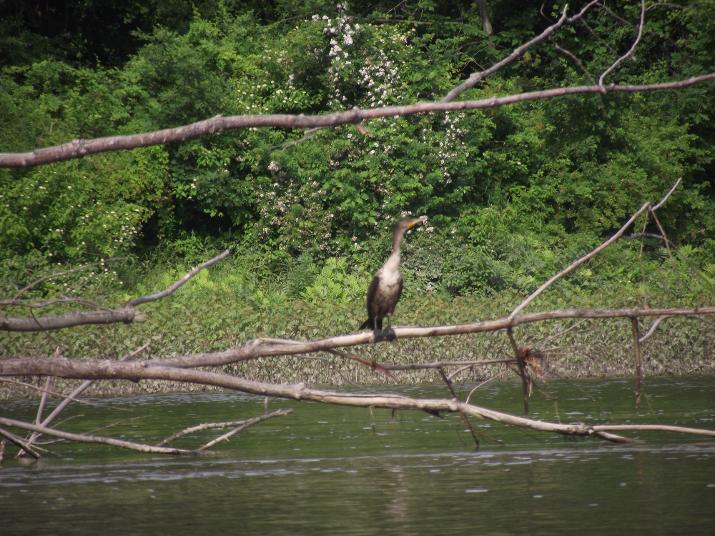 A cormorant sunning itself on a log.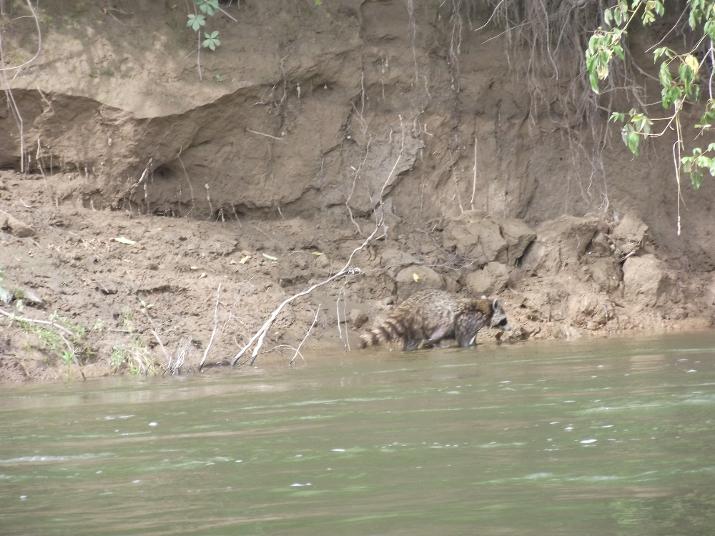 A young raccoon along the river bank. It did not see me until I was very close to it. I must have giving it quite a scare as it quickly scampered up the bank and out of sight.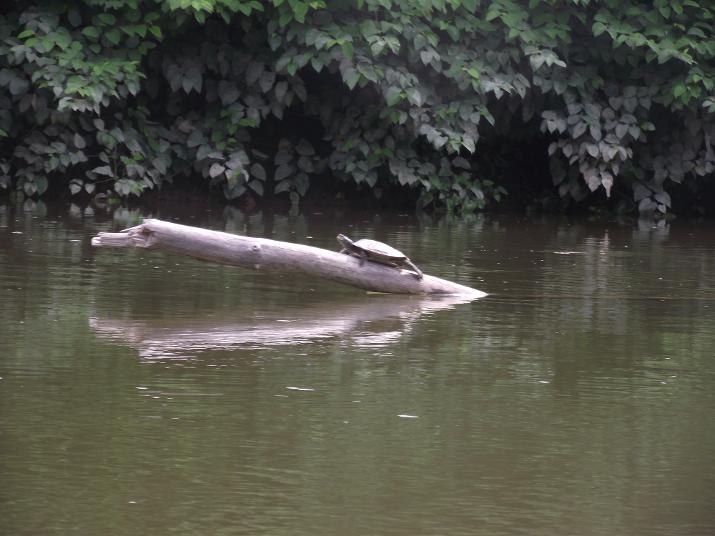 Many turtles can be seen sunning themselves in the morning.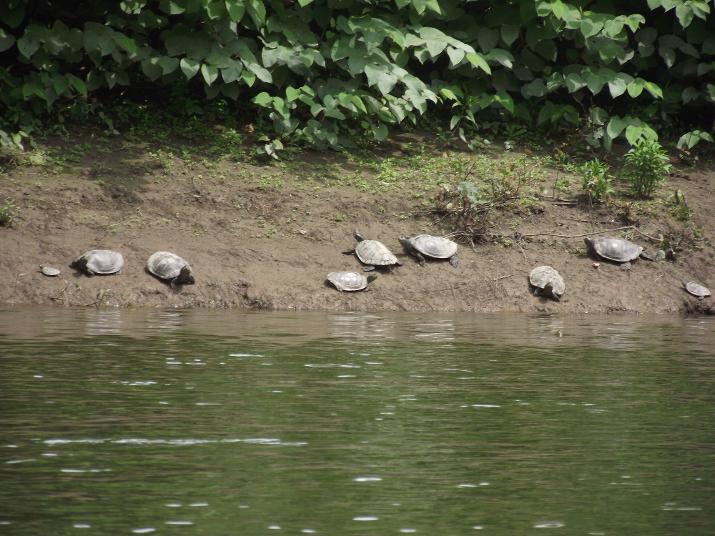 Didn't I tell you that you can see a lot of turtles sunning themselves? Turtles, as all reptiles do, adjust their body temperature by going in or out of the sun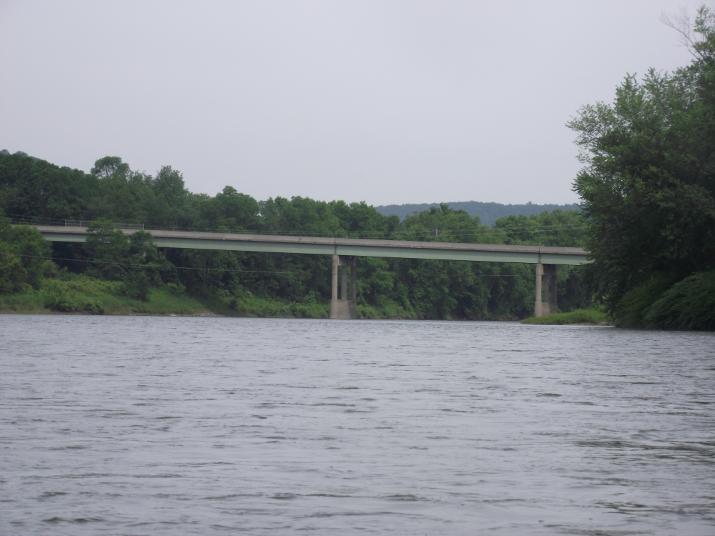 The Cedarhurst road bridge. Conklin NY is on the left side and Kirkwood NY on the right. I reached this point at 10:40. One hour and 40 minutes after leaving Hallstead PA. There is a river access near here.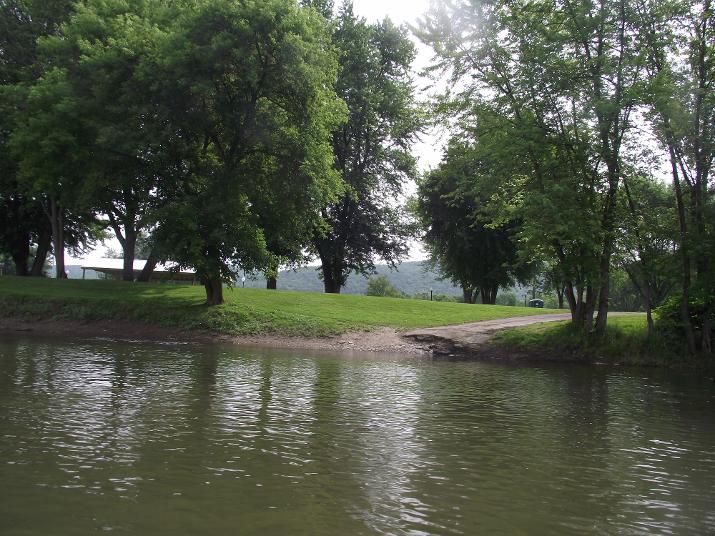 River access near the Cedarhurst road bridge. This is a public park with picnic areas and baseball fields. The day before, while scouting the area I considered this as my stopping point. But, since I made good time on the Oakland to Hallstead section I decided to search for another access point further down stream and found the Sandy Beach access just above Binghamton.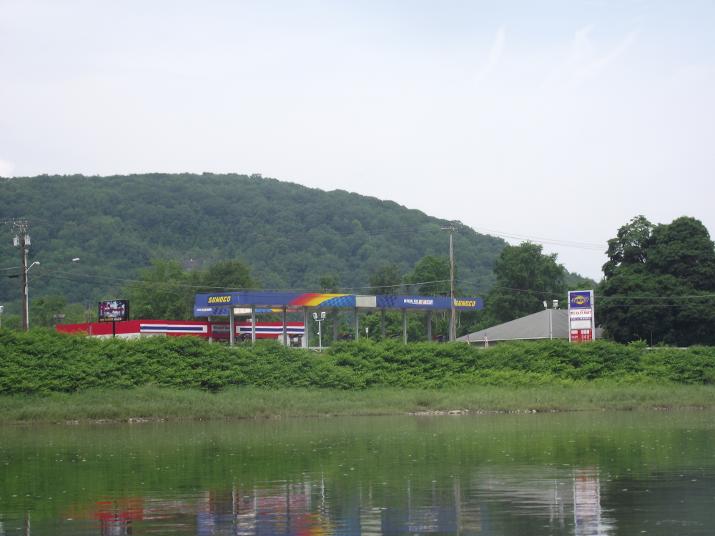 In this area Route 7 follows the river on the left bank. I reached this gas station at 11:30. 2 and a half hours after leaving Hallstead PA.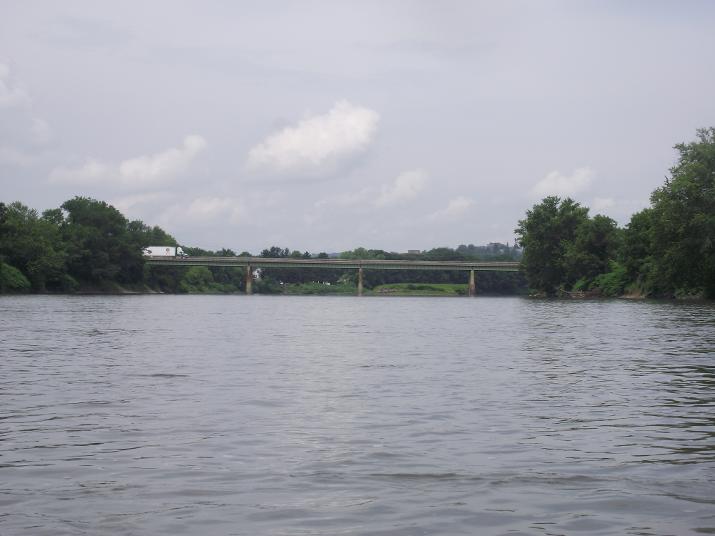 Exchange St bridge. Reached this point at 11:40. Sandy Beach access is another half hour downstream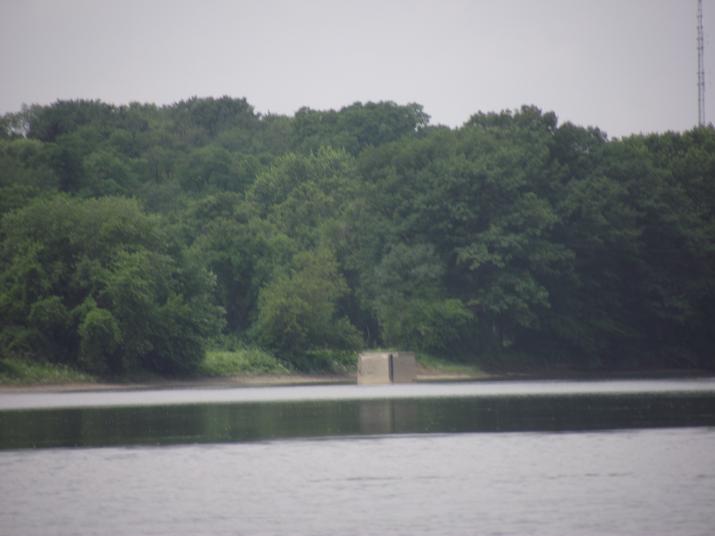 This concrete pillar came into view at around 12:05. The Sandy Beach access area is just past this point.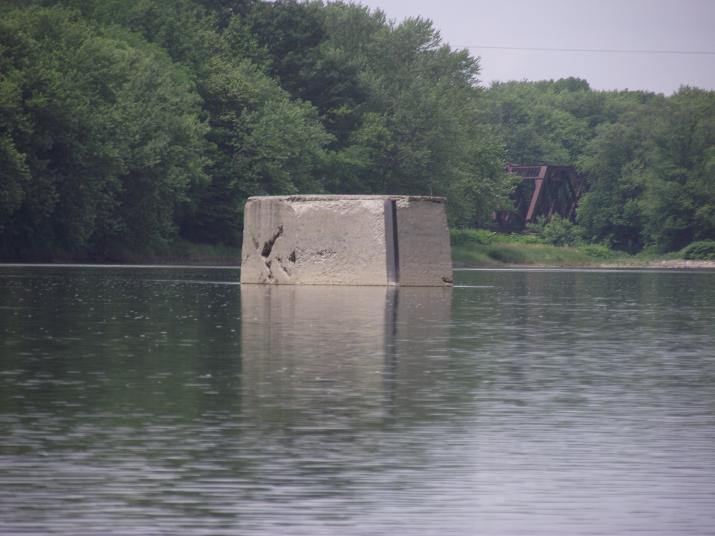 A close up of the concrete pillar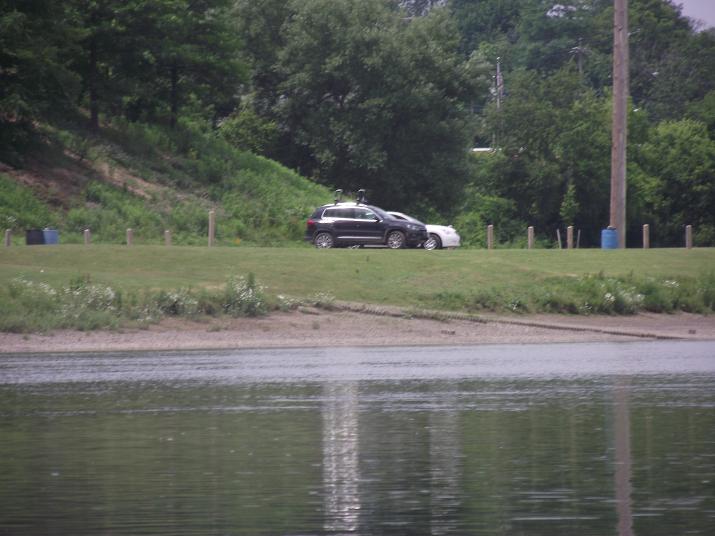 My car and food waiting for me at the Sandy Beach river access area. I reached this point at 12:15.
Next section: Binghamton NY to Apalachin NY. 17 miles and 4 dams. dangerous section